Thiruvananthapuram::
Highlights
Actor Dileep arrested in July for major Kerala controversy
Actress abducted, molested in car; cops say Dileep was mastermind
He allegedly blamed her for ending his first marriage
After spending nearly three months in jail, Malayalam actor Dileep was freed today. His request for bail had been
rejected four times earlier
. The 48-year-old has been accused of ordering the abduction and molestation of a woman co-star in February.
Thousands of fans garlanded him as he left prison in the town of Aluva, barely 20 kilometres from Kochi.
Dileep was warned by the Kerala High Court today not to tamper with evidence. In addition to handing over his passport so that he cannot travel abroad, the court warned him not to make any remarks including through TV or newspaper interviews that could be perceived as threats or attempts to intimidate either the actress or witnesses.
In February, a popular actress who cannot be named for legal reasons was traveling in a car in Kochi when she was held captive for nearly two hours in the vehicle; four men allegedly molested her and took photos of the assault on their cellphones.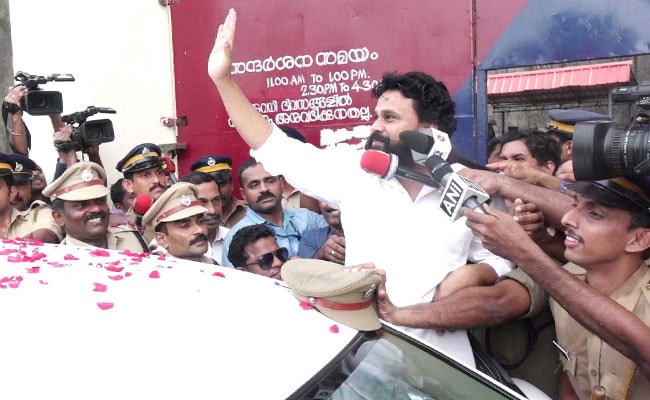 Among the six suspects who have been arrested is her former driver, Pulsar Sani, who she had sacked before the ordeal.
In July, the actress did not name Dileep but quoted him as saying that she was friends with Pulsar Sani. She said she was pained by the insinuation that she had in some way invited her ordeal.
The police have said in court that it has evidence that Dileep wanted to exact revenge because he holds the actress responsible for the failure of his first marriage to another actress, Manju Warrier. Investigators say that in 2013, he
offered a man Rs 1.5 crore
to attack the actress but said he must get a video of the assault along with nude photos.
Following his imprisonment, the release of Dileep's film
Ram Leela
had been held up several times, but it hit theatres last Friday and is running to packed houses across the state.
Get Breaking news, live coverage, and Latest News from India and around the world on NDTV.com. Catch all the Live TV action on NDTV 24x7 and NDTV India. Like us on Facebook or follow us on Twitter and Instagram for latest news and live news updates.