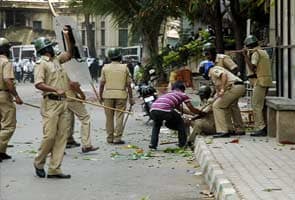 Bangalore:
Lawyers across Karnataka boycotted courts on Monday to protest against alleged police excesses against some lawyers at the Civil Court complex in Bangalore on Friday.
And even as the protests continued, negotiations are on to try and restore peace between the lawyers, the media and police after violence between the three sections on Friday. Spiritual guru Sri Sri Ravishankar has offered to mediate. A statement from the Art of Living said, "It is unfortunate that such an event has happened. Sri Sri would like to mediate between the media and the lawyers."
Some lawyers now seem ready to broker peace with the media, even saying that some of the men in black coats who were caught on camera attacking journalists were not lawyers at all. "Some are lawyers, but some are not lawyers but who were wearing robes...Police cannot enter the court premises...We are not serious about media...We are serious about the police entering, lathicharging," said KN Subba Reddy, the President of the Advocates' Association.
Police have arrested four advocates in connection with the violence and are looking for other suspects. The four arrested were remanded to judicial custody till March 16 by the Sixth Additional Chief Metropolitan Magistrate, Churi Khan, late on Saturday night.
One of the arrested lawyers, A P Ranganath, who complained of chest pain, was referred to the Jayadeva Institute of Cadiology for a check-up, police said.
The arrests came after the media in the state rejected the judicial probe ordered into the attack by the state government as an "eyewash" and demanded that the guilty advocates be brought to book immediately.
Sixty-five persons, including 52 police personnel, were injured when lawyers went on a rampage protesting presence of mediapersons to cover the appearance of former Minister and mining baron Janardhan Reddy in a mining case in the city civil court complex on Friday.