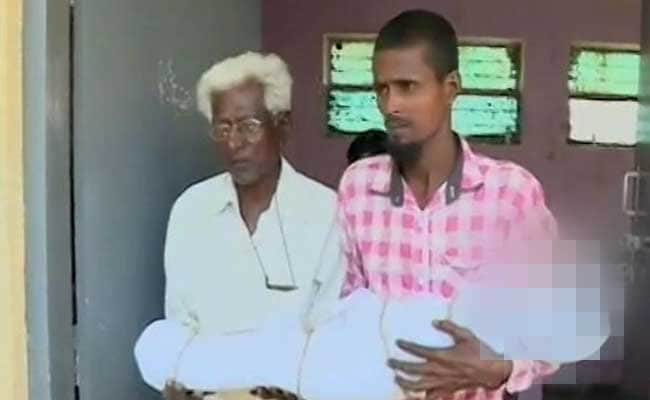 Highlights
Wasn't aware could get free ambulance to take son's body home: father
3-year-old, hit by car, was declared dead on arrival at hospital
Last year, Odisha man had carried wife's body on shoulder
A distraught man waiting outside a hospital in Karnataka, a tiny body in his arms - that was Safan Rai with his 3-year-old son, who died after being hit by a car on Sunday. While the man responsible is still to be caught, the heartbreaking video from Anekal's government hospital proved yet again that nothing has changed since the visceral pictures of Odisha's Dana Majhi carrying his wife's body made headlines almost a year ago.
Dana Manjhi, a farmer from one of the poorest districts of Odisha, had been unable to find a free ambulance - a service the government guarantees to the poor. Mr Rai did not know that he was entitled to one. The unexpected death of Rahim had left him distraught.
Hit by an unidentified vehicle in the evening, the child was declared dead at the hospital. The grief-stricken father told NDTV that he did not know he could ask for a free ambulance to take Rahim's body home. A migrant labourer from Assam, language was a barrier for him. And the hospital staff did not come to his aid.
Assuming he had to pay, Mr Rai had called in an acquaintance to help him carry his son's body home on a two-wheeler. He was filmed while he was waiting outside the hospital.
As the cellphone footage made it to local television channels, the police took note of the matter. A case was filed and Rahim's body was taken back to the hospital for a postmortem examination.
The police now say the hospital failed in its duty yet again by not informing them as per protocol.
After the postmortem, Rahim's body was returned to the family - respectfully wrapped in white. This time, Mr Rai was given an ambulance to take him home.