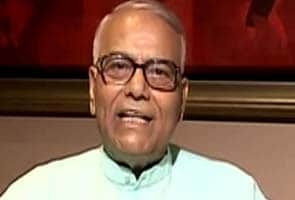 New Delhi:
Yashwant Sinha says he would not like to compare
Rahul Gandhi
's much-hyped address to India Inc today with Gujarat Chief Minister
Narendra Modi
's speeches at such events. "I don't want to be harsh on the young man (Rahul)," the BJP leader said with a grin.
But even before Mr Gandhi began what would be one of the more unusual speeches at a CII event, there were comparisons with Mr Modi, seen as a darling of corporate India. It continued after the speech, with many industry leaders lauding Mr Gandhi's effort, but refusing to drawn into whether it matched up to Mr Modi's speeches. For obvious reasons, Mr Sinha had no such compunctions and said, "It would be unfair to
Rahul Gandhi
if I compared him to Narendra Modi, there is no comparison."
(
Highlights of Rahul Gandhi's speech
) | (
Watch full speech
)
Mr Sinha is a former Finance Minister and one of the more outspoken leaders in his party. But today as the BJP slammed Mr Gandhi's speech by saying "A confused leader presented his confused ideology which nobody could understand," Mr Sinha used more gentle words to as much effect. The speech, he said, had perplexed him though it was "relevant in parts."
(Rahul Gandhi's CII speech shows he is a 'confused leader': BJP)

"Who was he targeting when he was criticising the present system? We (the BJP-led NDA government) were there for only six years? The Congress, his family?" Mr Sinha said, also criticising the Congress number 2 for having had "Nothing to offer on the present problems."
Mr Gandhi, the senior BJP man said, had shared only "platitudes."
Mr Sinha was scathing in his critique of industry bosses and how they reacted to Mr Gandhi's speech. "My impression of Indian industry is they stand up and applause even if you abuse them...because they are so dependent on the government for favours. And Rahul Gandhi is the guiding force behind this government," he said, not for a moment losing his smile.
He agreed that this held true in Modi's Gujarat too.
The Congress has dismissed suggestions that Mr Gandhi's address today, his first ever to industrialists in nine years of political life, is an attempt to counter Mr Modi, whose industry-friendly policies have won him large support and investment from some of India's biggest corporate houses. Neither Mr Gandhi nor Mr Modi have been named by their parties as the prime ministerial candidate for the national election, which is scheduled for next year. But already it is accepted that the campaigns will see them pitted against each other.