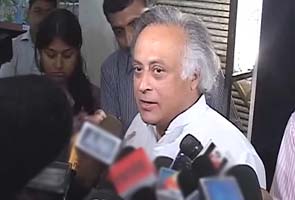 New Delhi:
"Women demand mobile phones, they are not demanding toilets," lamented Rural Development Minister Jairam Ramesh today in remarks that could create a controversy.
"Sanitation is the much more difficult issue. Now we are talking of behavioural changes and women demand mobile phones. They are not demanding toilets. That is the mindset we have," Mr Ramesh said after launching the Asia-Pacific Millennium Development Goals prepared by the UN Economic and Social Commission for Asia and the Pacific (ESCAP).
The Minister's remarks, however, left many uncomfortable in the gathering with the the host reminding the minister about a tribal woman from Madhya Pradesh who was recently honoured after her insistence on toilet facilities at her marital home compelled the villagers to take up the issue in their area.
Underlining that sanitation was a difficult issue in the country, Ramesh said that India is a land of paradox as the country accounts for almost 60 per cent of those relieving themselves in the open across the globe at a time when it has 700 million mobile phones.
"60 per cent of open defecation in a country which has 700 million mobile phones. We build toilets but the toilets are not used," the Minister said.
Mr Ramesh, who also holds the additional charge of the Ministry of Drinking Water and Sanitation, promised changes in the scenario soon.
"Both funding and management in water supply and sanitation is something very much on the cards. In next couple of months we will see more and more evidence of changes in these areas," he said.
In Madhya Pradesh's Betul district, tribal woman Anita Nrrae's insistence on having a toilet at her in-law's place had not only compelled her husband to take up the issue with the panchayat at his native in Jheetudhana, but also made Sulabh International adopt Anita's village for its "Total Cleanliness Drive".