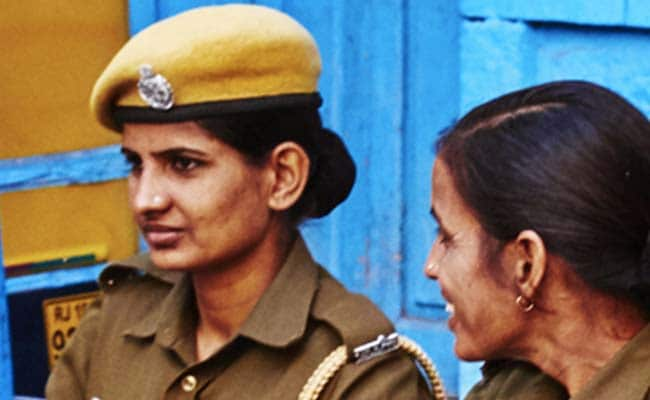 Raipur:
Fighting alcoholism and other social evils in their society for a decade, a special women's brigade - 'Mahila Commandos' - raised by a voluntary organisation in Chhattisgarh's Balod district may soon be categorised as Super Police Officers (SPO).
The idea of SPO has been introduced by Balod Superintendent of Police Arif Sheikh Hussain to give a new dimension to the commando concept. On a pilot basis, about 100 women commandos have so far been made SPOs, carrying batons and donning maroon sarees and caps, a senior police official said, adding that a proposal has been sent to the state government to raise around 1,000 SPOs.
The foundation of women commandos was laid by Shamshad Begum, a prominent social activist, in 2006 from her native place in Gunderdehi development block when it was part of undivided Durg district (now in Balod, which is about 100 kilometres from state capital Raipur).
She started the brigade with about 100 members of self help groups and now around 8,000 women have become part of this unique drive.
"'Make future generation free of liquor' is the motto of women commandos. These women want their children to protect themselves from the troubles they (women) had suffered due to alcoholism by male family members," Ms Begum told PTI.
Women commandos are active in about 300 villages in the district's Gunderdehi, Gurur and Balod development blocks.
Now, their operation is being expanded to around 150 villages of Patan development block in the neighbouring Durg district, said Shamshad Begum, who is leading the campaign through her 'Sahyogi Jan-Kalyan Samiti'.
Besides discharging their household responsibilities, these women are also engrossed in social service, she said.
Armed with sticks and torches, about 30-40 commandos conduct patrolling in respective villages from evening till late night to check boozing and illegal liquor sale.
Whenever they come across any inebriated person, they try to convince him to quit liquor addiction, she said, adding that sometimes women commandos have to take help of village sarpanch and police to deal with the situation.
Certain rules have been laid down to select women commandos as they have to work in difficult situation while at the same time they cannot take law and order in their hands, the activist underlined.
Beside the anti-liquor movement, the women commandos are also fighting against social evils like dowry system, making people aware of government schemes and spreading message of peace and brotherhood, she pointed out.
Ms Begum said as of now she does not want to claim how many villages have been made liquor free, but exuded confidence that the campaign is expected to show mega results within a year or two.
The 52-year-old activist was awarded 'Padma Shri' in 2012 for her exemplary contribution in literacy, specially women education, and taking effective steps in integrating women from backward classes with various welfare schemes.
The concept of SPO would add more teeth to the campaign, she said smilingly.
"Keeping in view the gravity of the campaign and high spirit of these women commandos, we launched a project named 'Mission Purna Shakti' to take this campaign to the next level and spread it across the district," Superintendent of Police Hussain said.
Under the project, a special training in self defense techniques has been recently imparted to around 1,200 women commandos, from all five development blocks of the district.
The training was named as 'ready to react' under which women were trained to defend themselves with the help of any object they have at the time of trouble, the Superintendent of Police said.
Besides, motivational training was also provided to the women so that they encourage other women in their area to take part in the drive.
"Similarly, the idea of SPO has been introduced to give a new dimension to the commando concept. As of now, on pilot basis, 100 women commandos have been made SPOs. Ten women have been picked up each from ten villages of Balod and Gunderdehi blocks," Mr Hussain said.
Under community policing fund, these SPOs have been provided with batons, maroon sarees and caps as uniform, whistles and torches for their general patrolling. Their assessment will be done during next three months based on which the concept will be expanded to other parts of the district, he said.
However, a proposal worth Rs 40 lakh has also been sent to the state government to raise 10,000 women commandos as SPOs in coming days, he said.
Hailing the activities of the women commandos, the SP said the campaign has been effective in reducing sale of illicit liquor to a great extent in the district and thereby helped in controlling the escalating crime graph.