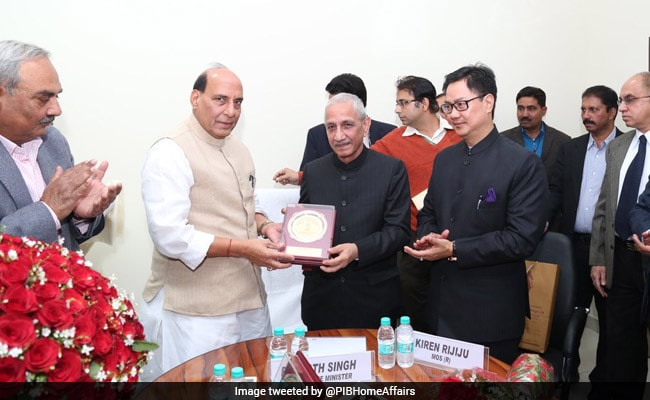 Srinagar:
Following Home Minister Rajnath Singh's announcement of a sustained dialogue and the appointment of former Intelligence chief Dineshwar Sharma as an interlocutor, senior Congress leader P Chidambaram and National Conference leader Omar Abdullah both questioned the "muscular approach" and the "defeat of those who use force as a solution", respectively.
Mr Chidambaram said that by announcing the peace initiative in Jammu and Kashmir, he hoped the Centre was admitting that the approach of using force to solve the Valley's problems had failed.
In a tweet, Mr Chidambaram said, "With appointment of interlocutor, I hope government has finally admitted 'muscular approach' has failed in J&K."
He also said that the change from a stance of "No Talks" to "Talks with all stakeholders" was a big victory for those arguing for a political solution for the Kashmir issue.
As Home Minister in the UPA regime, Mr Chidambaram had formed a three-member committee of interlocutors in order to push for a dialogue on Kashmir.
Echoing Mr Chidambaram's remarks in a series of tweets, former Chief Minister Omar Abdullah saw the announcement of the "sustained dialogue" as a welcome step, saying that accepting the political nature of the decision was a defeat for those who saw force as the only solution to the Kashmir issue.
"Centre announces an interlocutor to engage with stake holders in J&K. Will keep an open mind and wait to see results of the dialogue process," the former Chief Minister said in one of the tweets he posted after the announcement.
"The acceptance of the political nature of the Kashmir issue is a resounding defeat of those who could only see use of force as a solution," he further added.
In another tweet, Mr Abdullah also sought answers about the ongoing National Investigative Agency (NIA) investigations in cases related to terror funding in the Valley.
"What does this mean for the NIA investigation in J&K? Will investigation be suspended to facilitate dialogue with detained Hurriyat leaders?" he asked.
The National Conference leader also questioned the open-ended nature of a part of Home Minister Rajnath Singh's statement on the issue, which described the 'legitimate aspirations of the people'. Mr Abdullah asked who would define which demands would be genuine and which would not.
"The 'legitimate aspirations' of people of J&K is an interesting formulation. Who gets to decide what is legitimate?" he tweeted.
Responding to a tweet about the choice of a non-political representative, Omar said the mandate given to the interlocutor was more important.
"One can't get everything. So for now, we'll take what we can get. More important than the person is the mandate and absence of pre-conditions," he said.
(With inputs from PTI)