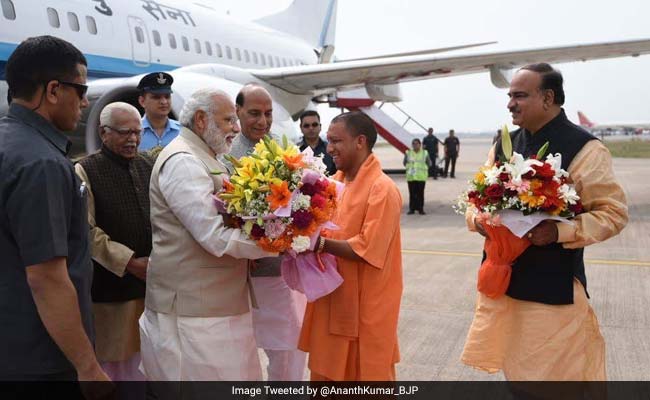 Highlights
Yogi Adityanath is among the many single Chief Ministers
Current lot includes Sarbananda Sonowal, Mamata Banerjee, Naveen Patnaik
Apart from PM Modi, former PM Atal Bihari Vajpaye is also single
New Delhi:
Priest-turned-politician Yogi Adityanath, 44, who took oath today as the 32nd Chief Minister of Uttar Pradesh, joins the singles' club of political leaders.
The club already has Haryana's ML Khattar, 62, Assam's Sarbananda Sonowal, 54, Odisha's 70-year-old Naveen Patnaik and 62-year-old Mamata Banerjee from West Bengal.
Prime Minister Narendra Modi separated decades ago from Jashodaben Chimanlal and has often described himself as a person with no family ties.
Addressing an election rally in Himachal Pradesh, PM Modi had said, "Mere liye na koi aagey, na peechhey. Kiske liye bhrashtachaar karunga? (In have no family ties. I am single. Who will I be corrupt for?). This mind and body is totally devoted to the nation."
Naveen Patnaik, who has been ruling Odisha since 2000, has often told the voters that unlike the Congress family, there is no danger of his government indulging in family rule as he himself is unmarried and has no family.
Firebrand Bengal Chief Minister Mamata Banerjee, who ended Left rule in the state in 2011 and is serving her second term, has often claimed in her public meetings that she has dedicated her entire life to people and has no time for herself.
Among the current crop of top politicians, Congress vice-president Rahul Gandhi, 46, BSP chief Mayawati, 61, and senior BJP leader Uma Bharti, 57, are unmarried.
"I'm of low caste, I'm unmarried, and I'm yours," Ms Mayawati has often proclaimed in her election rallies.
Rahul Gandhi, when asked about his single status ahead of 2014 Lok Sabha polls, had said, "Unfortunately, I have not been focused on private life."
Two other chief ministers, Nitish Kumar in Bihar and Manohar Parrikar in Goa, are widowers.
Former Prime Minister Atal Bihari Vajpayee, the poet-politician counted among the BJP's tallest leaders, never married. He used to underline his bachelor status in meetings saying that since he has no family, there is no question of nepotism or family rule.
The most notable among all unmarried public figures was Dr APJ Abdul Kalam, a space scientist who served as India's 11th President.
Former Tamil Nadu Chief Minister J Jayalalithaa, who died at 68 in December, was also single.
(With inputs from PTI)