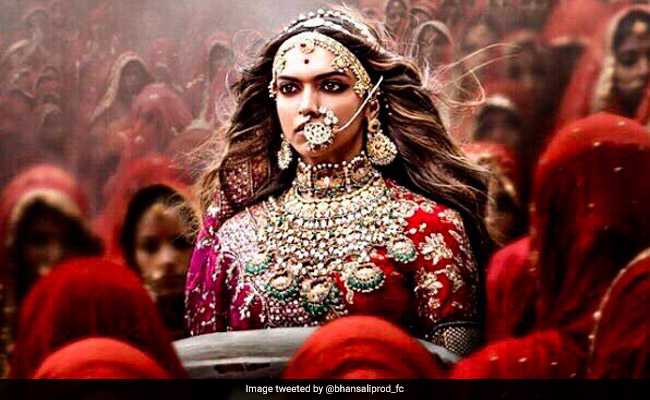 New Delhi:
The Padmavati controversy took an ugly turn today when a fringe Rajasthan group called the Karni Sena threatened actor Deepika Padukone of physical harm. "Rajputs never raise a hand on women but if need be, we will do to Deepika what Lakshman did to Shurpanakha," said a leader of the group in a video released today, referring to the act of cutting the nose off. Following the threat, Deepika Padukone got special security cover by the Mumbai police. The film Padmavati that is slated to release on December 1 stars Deepika Padukone, Shahid Kapoor and Ranveer Singh. The movie has been embroiled in one controversy after other and the former royals of Jaipur are calling for a complete ban on the movie, stating that Sanjay Bhansali's film shows queen Rani Padmini in bad light.
Here are top 10 developments on the Padmavati Controversy:
1. The fringe group Karni Sena has threatened that they will gather in lakhs and will call for a Bharat bandh on December 1. "Our ancestors wrote history with blood we will not let anyone blacken it," a Sena member said.

2. The Uttar Pradesh government of Chief Minister Yogi Adityanath has written to the Centre saying that the release of the film can pose a law and order problem for the state.

3. Objecting to the Ghoomar song picturized in the film, Heena Singh Judeo, daughter-in-law of Dilip Singh Judeo of Chhattisgarh's former royal family, said, "History has witnessed that none of the Rajput maharanis has ever danced in front of anyone, and they cannot play with history."

4. Rajasthan Higher and Technical Education Minister Kiran Maheshwari joined the chorus and said she strongly opposes the film, alleging it's been made purely for money and entertainment. "Deceit in any case with the history of immortal valour of such women cannot be accepted," she said.
During a protest in Bengaluru, Uday Kumar Singh of Rashtriya Ekatha Manch also demanded that the objectionable content should be deleted before its release.

5. A Rajput group, which has been demanding a ban on Sanjay Leela Bhansali's fim Padmavati, targeted a cinema hall in Rajasthan's Kota that was screening its trailer on Tuesday. Workers of the Rajput Karni Sena vandalized shops in the Aakash Mall, where the theatre was located.

6. Over one lakh members of the community converged at a massive gathering at Gandhinagar on Monday and thousands took part in the protest march in Surat to raise their demand of staying the release of Sanjay Leela Bhansali-directed movie.


7. Haryana minister Vipul Goel sought changes in the film and said that "glamourising Alauddin Khilji's character was akin to praising those who carry out acid attacks on girls".
8. Divya Kumari, whose grandfather was the last ruler of Jaipur, said "The women of Rajasthan are very upset with this film made on a queen who is the epitome of sacrifice."

"Rather than highlighting Padmini's sacrifice, the film-maker has sought to highlight the romantic angle in this film," she said.

9. Mansinh Rathod, who is leading the Gujarat chapter of Karni Sena, claimed that Sanjay Leela Bhansali has "distorted the historical facts in the movie."


"We have learnt that there is a dream sequence in the movie wherein 'Rani Padmavati' has been shown romancing with 'Allaudin Khilji'. We condemn such a heinous portrayal our queen. 'Karni Sena' will never allow such movie to hit the theatres," Mr Rathod said.
10. Sanjay Leela Bhansali has repeatedly denied the allegations and even released a video clarifying that his film does not distort history. The film ran into trouble with the Rajputs of Rajasthan soon after the shooting began. Its sets were vandalised twice. Mr Bhansali was attacked while shooting in Jaipur in January.