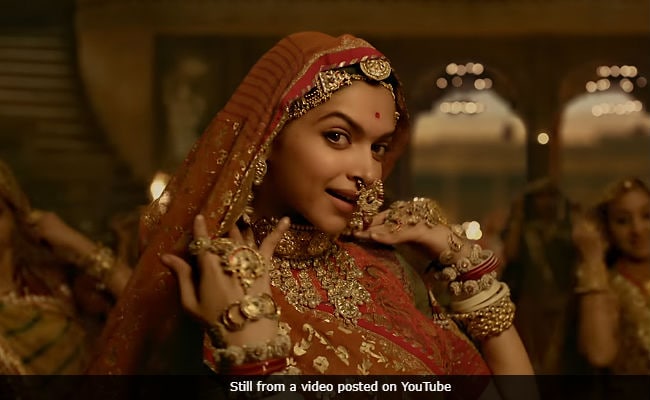 Highlights
A Chattisgarh royal criticised Deepika Padukone's Ghoomar song
"Rajput maharanis never danced for anyone," says Heena Singh Judeo
Rajput groups would like an advance screening of Padmavati
New Delhi:
Protests against Deepika Padukone's new film
Padmavati
continue to pile up with a Chattisgarh royal now criticising the song
Ghoomar
, saying that Rajput queens never danced before anybody. The fact that this is a film and, by definition, fiction seems to have escaped a staggeringly large number of people - most of them from Rajput groups. Heena Singh Judeo, daughter-in-law of Dilip Singh Judeo of Chhattisgarh's former royal family, is the latest to join the chorus of protests. She told news agency IANS: "History has witnessed that none of the Rajput maharanis has ever danced in front of anyone, and they cannot play with history."
Like the others opposing the movie, Ms Singh Judeo would like an advance screening of
Padmavati
. "Our only demand is that the filmmaker should show us what the movie is...We are just saying that we should know what they have given in the movie exactly," she told IANS.
Padmavati
is directed by Sanjay Leela Bhansali and based on the legend of Rani Padmini of Chittor who is believed to have committed
jauhar
to escape Emperor Alauddin Khilji. Certain groups, belonging mainly to Rajasthan, claim they are concerned that the film wrongly depicts a romance between Padmini and Khilji. Mr Bhansali has repeatedly denied that it does.
Ghoomar, in which Deepika Padukone as Padmini
performs the traditional Rajasthani folk dance, has been singled out for specific complaints. A women's body named Kshatrani Sankalp told
Hindustan Times,
"The queen is shown performing the
ghoomar
dance in indecent clothes, which is a faulty portrayal of Rajputs. A Rajput queen would never perform before an audience nor bare her midriff."
On Twitter, there were echoes
of the grumbles against
Ghoomar
.
I do not actually need to see the movie the song "Ghoomar" is enough to tell me the intentions of Bhansali the song was disgusting #Padmavati

— Ankur (@vastalitech) November 15, 2017
Rani Padmavati never danced (ghoomar). She was a brave, cultured woman. The character in film does not seem at all like that. Total non-sense is going on for cheap publicity, fame.@Vinayak52030046@vinodgadikar@pansare11https://t.co/yNdIoh6hfy

— Aditya Shastri (@shastria) November 15, 2017
#Ghoomar dance of #Padmavati symbolises the root cause of all problems of #India. While our rulers/people were busy dancing/praying invaders came from across the world to loot us. @deepikapadukone#SanjayLeelaBhansali , @RanveerOfficial@shahidkapoor

— Gautam Wankhede (@Gautam1Kday) November 15, 2017
Several demands have been made for
Padmavati
to be screened privately for the approval of the Rajput groups opposing the film. Lead actress Deepika Padukone was trolled online after saying yesterday, "REGRESSED QUOTE."
Padmavati
has been besieged ever since January when the sets were attacked in Jaipur and Sanjay Leela Bhansali assaulted. Sets were later vandalised in Maharashtra as well. Celebrities such as Salman Khan and Sidharth Malhotra have spoken up in defence of the film, saying it should be given a chance.
Padmavati
, pending clearance by the Censor Board, will release on December 1. Actors Ranveer Singh and Shahid Kapoor play Alauddin Khilji and Chittor ruler Ratan Singh.