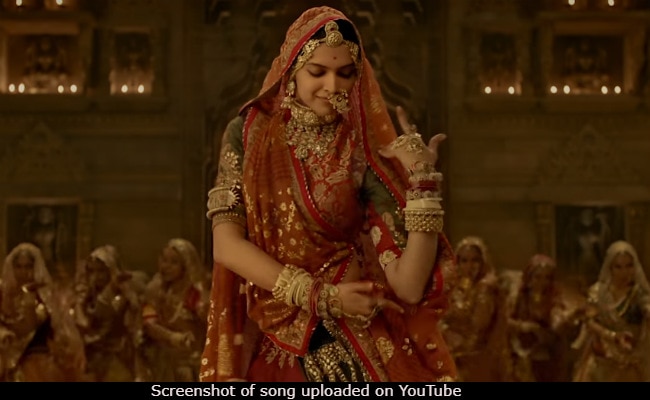 Highlights
"We did the steps keeping in mind the minute details," said Deepika
"It is very fragile and delicate," she added
"That was really difficult experience for me," she said
New Delhi:
Deepika Padukone's first day on
Padmavati
sets were to
shoot the Ghoomar song
, which is the first from the movie to be released. Ahead of making her debut on the film's set, she trained with
ghoomar
(a Rajasthani folk dance form) Jyoti D Tommaar for weeks, rehearsed for 12 days and finally, shot the song for over four days. But training wasn't really the most challenging bit - it was coming to terms with her new onscreen character - Rani Padmini of Chittor. "I was straight away thrown into this song, so it was very challenging for me," Deepika said in an interview, reported news agency IANS.
Deepika reportedly
performed 66 twirls while shooting Ghoomar
for director Sanjay Leela Bhansali to pick out the best few. "I think the toughest part of this song is the fact... As you all have seen the song, we did the steps keeping in mind the minute details - the hip movement and the hand movement. They are not traditionally seen. They are not big, loud steps... It is very fragile and delicate, but at the same time emoting or connecting with the audience... That was really difficult experience for me," she said.
Ghoomar
has been choreographed by Kruti Mahesh, who also worked on
Deewani Mastani
from
Bajirao Mastani
.
Talking about her ice-breaking with her character
, this is what Deepika said: "This folk dance was actually the first time I went to sets as Padmavati, and this is the very first thing we shot. It was really difficult for me because I was just getting to understand the character which I am playing - what is the character, who is she, how she dances and looks, what would be her body language and mannerisms."
Shahid Kapoor also features in the Rawal Ratan Singh, who Rani Padmini was married to, in the
Ghoomar
song. Ranveer Singh joins Deepika and Shahid on the
Padmavati
cast as Alauddin Khilji.
Meet Deepika Padukone as Rani Padmini in theatres on December 1.