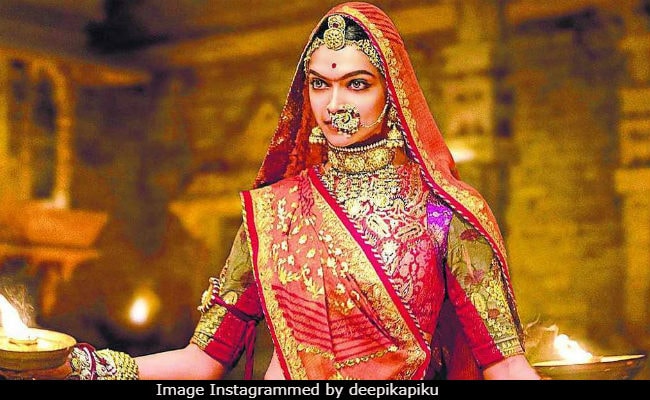 Highlights
Ghoomar is Padmavati's first song to be released
Deepika reportedly twirled over 66 times for the song
Ghoomar is expected to release today
New Delhi:
The first
Padmavati
song
Ghoomar
seems every bit interesting. Deepika Padukone has reportedly delivered over 66 twirls during the shooting of the song, because there's no room for the average with Sanjay Leela Bhansali on sets. The song gets its name from the traditional form of Rajasthani folk dance Ghoomar and in characterised by its signature twirls: "The routine involves twirling in circles with perfectly co-ordinated hand movements and footwork," explained
Padmavati
's official Twitter handle. Mr Bhansali ensured Deepika had the best guidance and as a result, the actress trained under Jyoti D Tommaar, whose expertise is the Ghoomar dance genre, and choreographer Kruti Mahesh, stated
mid-day
.
This is what Deepika Padukone has to say about the song:
The Ghoomar Song has to be one of the most difficult yet most fulfilling song sequences i have ever shot for! #GhoomarToday@FilmPadmavati

— Deepika Padukone (@deepikapadukone) October 25, 2017
Three hours a day for half a month of training
helped Deepika
perfect her moves for the camera. "It has been one of the most difficult song sequences that Sanjay sir and I have shot for. The shooting of the film began with this song and I will never forget that day," Deepika told
DNA
in an interview.
"I remember approaching my mark for the first shot and suddenly, I felt a chill run through my body. It was almost as if Padmavati's soul had entered my body. That feeling still lingers and will continue for years to come," she added in her
interview
.
Now, we know one of the reasons why
Padmavati was "exhausting" for Deepika
. This is the confession she made in an interview earlier: "Working in Padmavati was an exhausting experience. It takes quite a lot to work on a character for nine months constantly round the clock. Certain characters just don't leave your system." Deepika Padukone features as the titular Rani Padmavati in the movie.
Deepika Padukone co-stars with Ranveer Singh and Shahid Kapoor in the ambitious period piece, which is slated for a December 1 release. Ranveer features as conqueror Alauddin Khilji while Shahid has been cast as Rani Padmini's husband Rawal Ratan Singh.