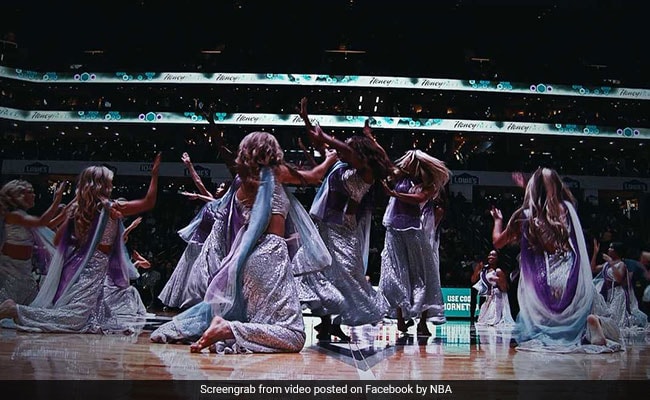 Highlights
Ghoomar song was performed by dancers at an NBA match
The match was held on January 28 in USA
The original song from "Padmaavat" features Deepika Padukone
New Delhi:
A group of dancers performed to Deepika Padukone's
Ghoomar
song from "
Padmaavat
" at a National Basketball Association (NBA) match, which was held between Charlotte Hornets and Miami Heat on January 28 in USA. The
Ghoomar
dance performed by the girls was spectacular and full of twirls and Bollywood
jhatkas-matkas
. The spectators at the stadium, too, enjoyed the dance performance and cheered. In the dance video, posted by NBA's official Facebook handle, fans can be heard whistling and applauding in the stadium.
Ghoomar
is a Rajasthani folk dance form, which is performed by Deepika in the song. Of the song, Deepika said that it was very 'challenging' for her and she reportedly performed 66 twirls while shooting
Ghoomar
for director Sanjay Leela Bhansali to pick out the best few.
Watch
Ghoomar
performed by the dancers at an NBA match here: (This will definitely make your day)
Amidst all the protests against the period drama "
Padmaavat
," the
Ghoomar
song was also criticised, saying that Rajput queens never danced before anybody. Heena Singh Judeo, daughter-in-law of Dilip Singh Judeo of Chhattisgarh's former royal family, told news agency IANS: "History has witnessed that none of the Rajput maharanis has ever danced in front of anyone, and they cannot play with history."
Ghoomar
has been singled out for specific complaints
. A women's body named Kshatrani Sankalp earlier told
Hindustan Times
, "The queen is shown performing the
ghoomar
dance in indecent clothes, which is a faulty portrayal of Rajputs. A Rajput queen would never perform before an audience nor bare her midriff."
Later, the makers of
Padmaavat
released a new version of
Ghoomar
, in which Deepika's midriff was covered by special effects.
Watch the new version song of Ghoomar here.
"
Padmaavat"
is based on the legend of Rani Padmini of Chittor who is believed to have committed
jauhar
to escape Emperor Alauddin Khilji. Certain groups, belonging mainly to Rajasthan, claim they are concerned that the film wrongly depicts a romance between Padmini and Khilji. Mr Bhansali has repeatedly denied that it does.
"
Padmaavat"
, also starring Ranveer Singh and Shahid Kapoor, was cleared for release by the Censor Board in January along with five modifications. The release of the film was deferred following protests from several Rajput outfits, who objected to the movie alleging that Bhansali has distorted history. "
Padmaavat
" released on January 25 and is receiving "earth-shattering" response at the box office, as predicted by Deepika Padukone.