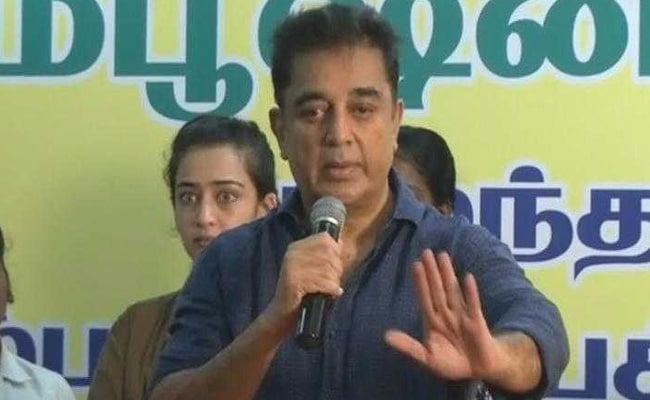 Highlights
Kamal Haasan speaks on Padmavati row, condems threats to cast and crew
Sanjay Leela Bhansali-directed film has faced huge protests
Many have threatened actor Deepika Padukone with physical harm
New Delhi:
Actor Kamal Haasan, who is prepping for a political career, on Monday weighed in on the controversy over Bollywood movie Padmavati, saying he wanted the head of Deepika Padukone "saved". His tweet was a response to a shocking comment from a Haryana BJP official on Sunday,
announcing a 10-crore bounty
on the heads of Ms Padukone, who plays the role of the 13th Century Queen, and the director of the film, Sanjay Leela Bhansali.
Politicians, cutting across party lines, have demanded a ban on the Rs 200-crore film, the release of which, slated for December 1, has already been deferred by its producers.
The tweet from Mr Haasan this evening read:
I wantMs.Deepika's head.. saved. Respect it more than her body.Even more her freedom. Do not deny her that.Many communities have apposed my films.Extremism in any debate is deplorable. Wake up cerebral India.Time to think. We've said enough. Listen Ma Bharat

— Kamal Haasan (@ikamalhaasan) November 20, 2017
The comment of Surajpal Amu, the BJP's chief media coordinator in Haryana, added to the threats of violence from the Rajput groups, which say the movie distorts history and has portrayed the legendary Rajput queen Padmini in an offensive manner.
The Rajput Karni Sena, which is spearheading the protests across several cities, has said they would punish Deepika Padukone the way Lakhshman punished Ravana's sister Surpanakha in the epic Ramayana - by chopping off her nose. Their shocking comment had also received an endorsement from Mr Amu. Ms Padukone's security has already been scaled up.
Following the BJP's demand for an explanation, Mr Amu said he had made the statement as a "Rajput" and not as the party's officer-bearer. He also added that he firmly stands by his statement.
Mr Hasaan, who recently announced plans to form his own political party, has posted frequent criticisms not only of Tamil Nadu's ruling AIADMK, but also the BJP. Asked about his political leanings, he had said, "My colour is obviously seen over the 40 years I have been working in cinema, definitely it's not saffron".
His tweets against the AIADMK have become sharper over the recent weeks, prompting frequent warnings from various ministers. In August, a minister threatened to sue him when he said everyone has to face corruption in Tamil Nadu.
In response, the actor asked his fans to flood the state's ministers with emails, exposing their experiences of corruption, and dared the government to arrest everyone.