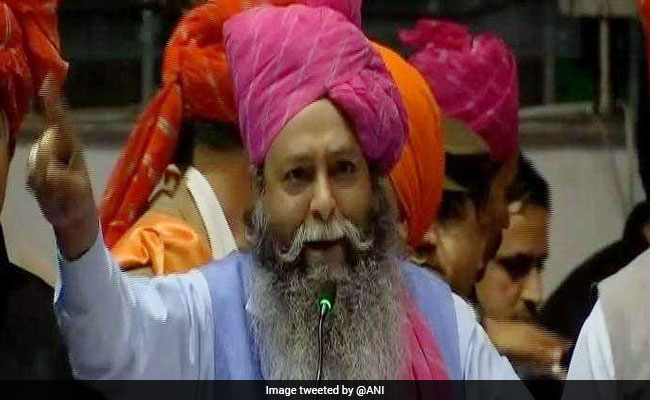 Highlights
Surajpal Amu from Haryana made the open threat on Sunday
The release of the film was "voluntarily" deferred following protests
Protesters say film shows romantic ties of Rani Padmini, Alauddin Khilji
New Delhi:
The vitriol over Bollywood film
Padmavati
went up a notch as a BJP office bearer from Haryana said he would double the bounty on the heads of actor Deepika Padukone and filmmaker Sanjay Leela Bhansali, to Rs 10 crore. Surajpal Amu, the party's chief media coordinator who made the announcement, also threatened to "break the legs" of Ranveer Singh, who plays the role of Alauddin Khilji, the Delhi Sultan obsessed about the legendary 13th Century Queen of Chittor.
Asking his cheering audience if a Rs 10 crore bounty cannot be offered instead of the 5 crore offered by a man from Meerut, he was quick to add a disclaimer. "We do not want to take law into our hands", but if someone "raises an eye at our sisters and daughters," they will be punished, he said in the speech peppered with threats and inflammatory comments.
Questioning how the film has been funded, he even said, "Sanjay Leela Bhansali is not worth Rs 3 crore - where did he get Rs 300 crore? Modi-ji you have to speak."
The release of the film was "voluntarily"
deferred on Sunday by its producers following extensive protests
, vandalism and threats. But it has not placated the protesters, who demand a complete ban. "Vasundhara-ji says there will have to be cuts in the film. Forget that, we will not let this film run," Mr Amu declared.
The film has run into trouble since shooting started. Alleging that it invented a romantic angle between Padmini and Alauddin Khilji, politically influential Rajput groups have been on the warpath. Film sets have been wrecked in two cities, movie ticket windows smashed, shops vandalized and the fort of Chittor shut to visitors.
A leader of the Rajput group Karni Sena, which has been spearheading the protests, even said they would punish Deepika Padukone the way Lakhshman punished Ravana's sister Surpanakha in the epic Ramayana - by chopping off her nose.
Chief Minister Vasundhara Raje of Rajasthan -- whose government has been accused of inaction against the protesters - wrote to Union minister Smriti Irani on Saturday. The film, she said, should be put on hold to allow time discussion and removal of controversial portions.
The Uttar Pradesh government, led by Yogi Adityanath, has said it anticipates law and order disruption upon the film's release. In Gujarat, the ruling BJP has asked the Election Commission to defer the release of the film till after the elections, which would be held next month.
The Central Board of Film Certification, popularly called the censor board, withheld the movie's clearance last week, saying its paperwork was incomplete.