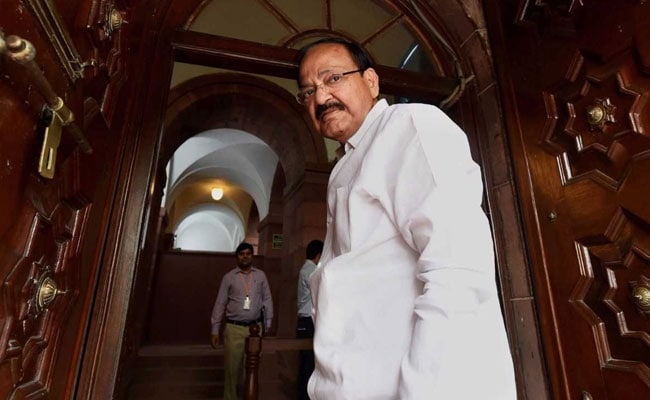 New Delhi:
Venkaiah Naidu
, the NDA candidate for the
Vice Presidential elections
is likely to sail through the elections that will be held on Saturday. Mr Naidu's win is almost certain as his party, the BJP, along with its partners enjoy a comfortable majority in the Lok Sabha.
The opposition has fielded Gopal Krishna Gandhi against Mr Naidu. The result of the vice president elections will be known by Saturday evening after members of Parliament cast their ballot during the day in Parliament House. The winning candidate will succeed present incumbent Hamid Ansari, who has held the post for two consecutive terms. Vice President Ansari's term comes to an end on August 10.
Nitish Kumar
of the Janata Dal United, who recently broke his partnership with Lalu Yadav's RJD and Congress in Bihar, only to form government with the help of BJP, will however vote for opposition candidate, Mr Gandhi. Mr Kumar had voted for BJP Presidential Candidate Ram Nath Kovind during the elections held for the post. Mr Kovind won the elections to become the 14th President of the country.
During the voting, Parliamentarians will use special pens for marking their choice in the election to be held between 10 am and 5 pm. The results will be declared by 7 pm, Election Commission officials said quoting precedents.
The electoral college which elects the vice president, who is also the ex-officio Chairman of the Rajya Sabha, consists of elected and nominated members of Rajya Sabha and Lok Sabha. The total strength of the two Houses is 790, but there are two vacancies in the Lok Sabha and one in the Rajya Sabha. BJP MP in Lok Sabha Chhedi Paswan is barred from casting vote following a judicial pronouncement, news agency PTI said.
The NDA has 338 members in the 545-member Lok Sabha - BJP with 281 MPs is the largest party in the Lower House. On Friday, the BJP made history by becoming the
largest party in the Rajya Sabha
. Sampathiya Uikey, the new BJP lawmaker from Madhya Pradesh, helped the party end the Congress' 65-year run as the biggest party in the Upper House. The BJP now has 58 members, one more than the Congress tally of 57.
The one who bags 50 per cent plus one vote of the total valid votes cast will win the poll.
(with inputs from PTI)