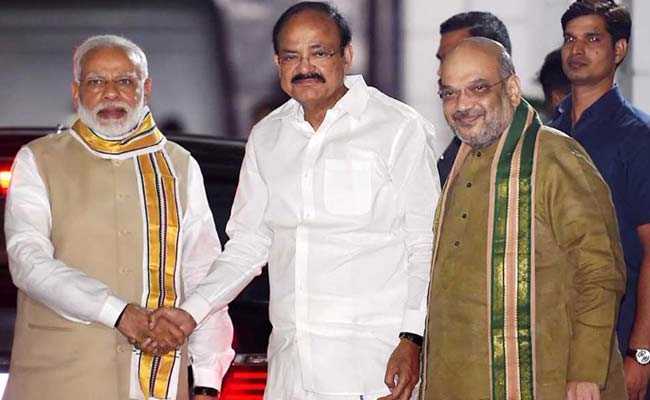 New Delhi:
Prime Minister Narendra Modi today highlighted NDA's candidate M Venkaiah Naidu's extensive parliamentary and field experience and said he would perhaps be the first vice-president with such vast legislative exposure. Mr Naidu will be contesting Opposition's nominee Gopalkrishna Gandhi in the upcoming vice-presidential polls on August 5.
"It is not an analysis but my estimate that it is for the first time, someone with such a long experience of Rajya Sabha will be holding the post of vice-president. He is also the first candidate who has extensive knowledge of different areas of the country, their strength, their problems which is an added advantage as it helps to administer and find solutions easily," Prime Minister Modi said in his remarks at the BJP Parliamentary Board.
Mr Naidu, who has served as the Minister of Housing and Urban Poverty Alleviation, Urban Development and Information and Broadcasting in the NDA government, filed his nomination papers today morning in the presence of top leaders including PM Modi and several ministers and allies.
The Prime Minister also said that the people in the Bharatiya Janata Party (BJP), who have worked with him, know well how involved Mr Naidu has been in agricultural issues.
"I have seen that despite not having the charge of the agriculture department, he actively took part in the agriculture decisions. There was a touch of Naidu in every agricultural decisions of his government. He used to involve himself in agriculture issues and observe things," Prime Minister Modi said.
He further added that Mr Naidu has led a very simple life dedicated to farmers. "I feel that due to all these qualities we would gain from his experience," he said.
Meanwhile, BJP President Amit Shah said "Naidu becoming the Vice President is an irreparable loss for the BJP". But it also good that such a respected and qualified person is going to occupy that post," Mr Shah said.
NDA declared Venkaiah Naidu's candidature for the vice-president's post on Monday, days after the opposition nominated Gopalkrishna Gandhi, a former West Bengal governor and grandson of Mahatma Gandhi and C Rajagopalachari, as its candidate. Mr Gandhi has been picked by 18 opposition parties.