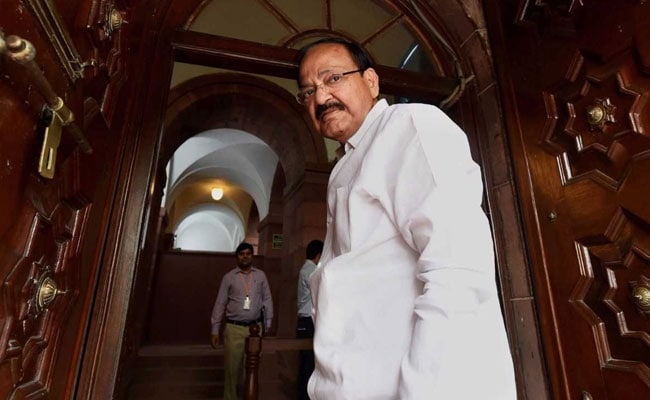 Highlights
In 2014, Telangana bought police cars worth 271 crores
Some cars bought from dealership owned by V Naidu's son: Congress
Deal was directly between government and Toyota: V Naidu
New Delhi:
Venkaiah Naidu,
likely to be the country's next vice-president
, has today refuted allegations of corruption in a deal involving his son's car dealership and the government of Telangana.
The Congress said that the government of India's youngest state ordered police vehicles worth Rs 270 crore in 2014. While some of the cars were bought from Harsha Toyota, owned by Mr Naidu's son, the others were supplied by a dealership owned by the son of Telangana Chief Minister K Chandrashekar Rao. A competitive bidding process was not followed, the opposition party said. But Mr Naidu said that the deal was handled directly by the state government and Toyota.
The Congress also claimed that a trust operating in Telangana which includes Mr Naidu's daughter has been granted an exemption of Rs 2.2 crore by the municipal authorities in Hyderabad.
Congress leader Jairam Ramesh said that last month, the administration "exempted the Swarna Bharat Trust of Naidu's daughter from paying various charges amounting to more than Rs 2 crore to the Hyderabad Metropolitan Development Authority".
"Is it not a fact that such an exemption has no precedent and it has been done because his daughter is the managing trustee of the organisation?" the Congressman asked. The Vice-Presidential candidate said that other trusts had been given similar exemptions.
Greater Hyderabad Municipal Corporation special commissioner Naveen Mittal did not deny the exemption of over Rs 2 crore to the trust but said there are at least 17 institutions that were granted such exemption based on a case-to-case basis after considering their merits.
Mr Mittal said if the trust is used for commercial purpose, the Hyderabad Metropolitan Development Authority could impose conversion charges. He also denied there was any secrecy in the order granting exemption to Mr Naidu's daughter's trust.
Telangana Chief Minister KCR's son KT Rama Rao, who is the IT and municipal administration minister in the Telangana government, told NDTV his dealership had been sold more than seven years ago, much before their party the TRS even came to power in 2014.
The Congress also claimed that in Madhya Pradesh, which is governed by the BJP, a trust which has Mr Naidu as its Chairman was allotted 20 acres in Bhopal and that though the market value of the land is more than a hundred crores, the land, "was allotted by BJP government of Madhya Pradesh for a pittance of one-time premium of Rs 25 lakh and a yearly rent of one rupee?"
Mr Ramesh said the land which was classified as "residential and forestry" was given permission to operate for "commercial" reasons as an act of favouritism by BJP government" and without full disclosure.
Mr Naidu is running for Vice-President as the government's candidate; he is up against former Governor Gopalkrishna Gandhi, who is the nominee of an 18-party front.