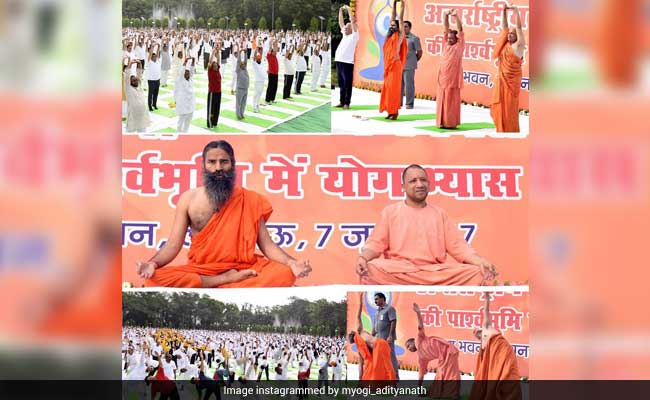 Lucknow:
Ahead of the International Yoga Day celebrations on June 21, Uttar Pradesh governor Ram Naik, chief minister Yogi Adityanath, deputy chief ministers Keshav Prasad Maurya and Dinesh Sharma today practiced 'asanas' along with Baba Ramdev.
Speaking on the occasion, governor Naik said, "On June 21, not only the entire India, but the whole world will be looking towards Lucknow, as Prime Minister Narendra Modi along with 50,000 people will be participating in the event."
The UP Governor said that yoga is almost 5,000 years old and has become popular globally.
Mr Adityanath said that yoga should be taken forward, "as it is our tradition and to pay gratitude to our ancestors".
He said that due to Prime Minister Narendra Modi's efforts yoga has got international recognition.
"Performing yoga with the PM will a historic moment for Lucknowites. The aim of yoga is to build a healthy body, a healthy mind, a healthy society and a healthy country," the chief minister said.