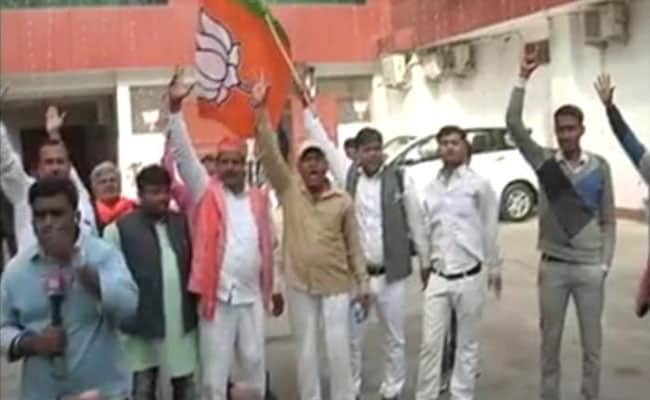 Meerut:
Meerut's
sitting legislator, BJP's Dr Laxmikant Bajpai is leading the race in the key seat in Western Uttar Pradesh, the current trends have suggested. The 66-year-old former practitioner of Ayurveda has been a four-time legislator from Meerut. He had also been the state president of the party till he was replaced ahead of the assembly elections by Keshav Pradhan Maurya.
Early leads
have showed that the
BJP is heading for a massive victory in Uttar Pradesh
. If the trends continue, the party may win more than 250 of the state's 403 seats in an election that's billed as the dress rehearsal for the 2019 general elections. Currently it is ahead in 238 of the 340 seats for which leads have come in.
In Uttarakhand too, the BJP is leading in 52 seats -- a gain of 24 from the last time. In the 70-member assembly, a party needs 36 seats to form the government.
Celebrations have started at the BJP headquarters after the early trends made its lead in the two states clear. The party is also expecting good news from Goa, where it is neck and neck with the Congress.
"The BJP has emerged as the most inclusive party and inspired the voters to rise above the traditional feudal mindset of parties in the state. With kind of support he enjoys, PM Modi has become a rallying point for the party across the country," said Union Minister Jitendra Singh.
The only state where it is trailing is Punjab, where the Congress is so far in the leading, with Arvind Kejriwal's Aam Aadmi Party at its heels.