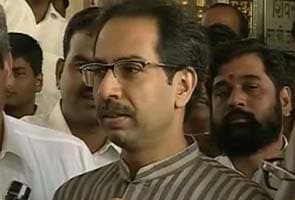 Mumbai:
Shiv Sena executive president Uddhav Thackeray underwent his second angioplasty at Mumbai's Lilavati hospital today.
The 52-year-old leader arrived at the hospital around 11 am with his wife Rashmi and children Aditya and Tejas. Maharashtra Navnirman Sena chief and estranged cousin Raj Thackeray was also present.
Mr Thackeray had undergone his first angioplasty at the same hospital in July, following complaints of severe chest pain. The medical team had then discovered multi-vessel blockages and suggested he undergo two series of the medical procedure.
"The procedure involving one more stent has been performed successfully," Shiv Sena spokesperson Sanjay Raut said. "Uddhav Thackeray is responding well and spoke to (Sena patriarch) Bal Thackeray."
While Mr Raut didn't confirm, Lilavati hospital sources said Mr Thackeray could be discharged on Tuesday.
Singer Lata Mangeshkar and Shiv Sena leader Manohar Joshi were among those who visited Lilavati during the angioplasty. Ms Mangeshkar also went to see Bal Thackeray at his Bandra residence as he has been unwell for the past few months.