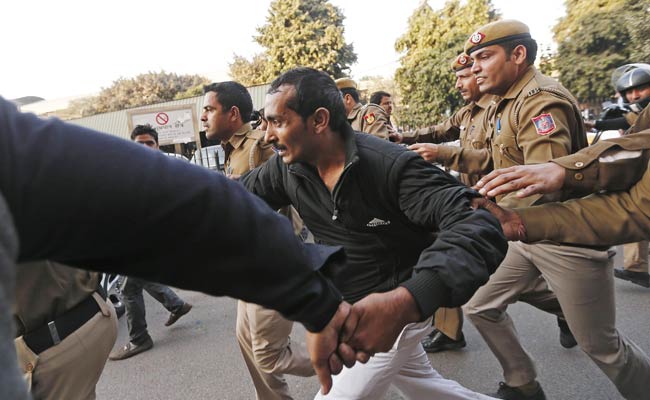 New Delhi:
Officials interrogating Shiv Kumar Yadav, the Uber driver accused for the rape of a 27-year-old woman in Delhi, term him as a "master of lies" and a "highly deceptive" person.
The 32-year-old taxi driver has emerged as a serial sexual offender and was out on bail in a rape case in 2013, besides being involved in a similar case in 2011.
"He hides most of the things and confesses only about things he knows that we already are aware of. He is a master of lies and highly deceptive. When we ask him about his previous involvements, he tries to give alibis and claims that he has not been convicted in any of them," said a senior police official.
After it came to light that he had been accused in at least three cases of rape and one of molestation, investigators were trying to ascertain whether he had victimised other women using his cab.
When asked about it, Yadav gestures in the negative, the official said.
Delhi Police has asked their UP counterparts to provide details of the previous involvements of Yadav to strengthen their case against him. Police want to file a watertight charge sheet against him in the next two weeks and his past criminal record will help them in doing so.
Deputy Commissioner of Police (North) Madhur Verma has spoken to SSP, Mainpuri in this regard and a team will be sent to collect documents.
Yadav, who had studied only till middle school, had allegedly raped a woman in Mainpuri in UP last year and was involved in at least two more cases, including that of a molestation, investigators said.
Yesterday, it emerged that Yadav was arrested in a rape case in South Delhi's Mehrauli area in 2011 and had even spent seven months in Tihar jail. He was, however, acquitted in the case.
He also has two cases under the Goonda Act against him in Mainpuri.
His three day police custody ends tomorrow and he will be produced before a local court. Police are not expected to seek his further custody as they have recovered the iPhone which was provided to him by cab-service firm Uber.
The phone was recovered from Mathura by a Delhi Police team which had gone there with the accused yesterday, according to police.