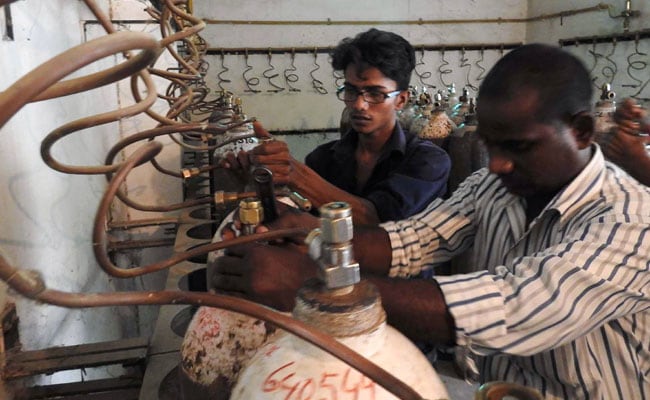 Highlights
Dr Rajeev Misra said he owned responsibility 'for death of children'
He said UP government took too long to seek funds to pay oxygen supplier
The government denies deaths linked to disruption in oxygen supply
GORAKHPUR:
Suspended head of the Gorakhpur medical college where 30 children died in 48 hours, Dr Rajeev Misra said he owned responsibility "for the death of innocent children" but contradicted the Yogi Adityanath government that he took too long to seek funds needed to pay for the oxygen supplier.
63 children including several newborns have died in the last five days at Baba Raghav Das Medical College
in Gorakhpur, prompting even
Prime Minister Narendra Modi to take note of the tragedy
and send junior health minister Anupriya Patel to Gorakhpur for a first-hand assessment of the situation. PM Modi also spoke with Uttar Pradesh Chief Minister Yogi Adityanath in this connection.
The government has
denied that the deaths were linked to a disruption in supply of oxygen
, insisted that deaths of children in the hospital this year was much lower than previous years due to steps taken by the administration and ordered a second inquiry by Chief Secretary into the 2014 contract for the supply of oxygen.
At a joint press conference with Chief Minister Yogi Adityanath and Health Minister Siddharth Nath Singh, Medical Education Minister Ashutosh Tandon said the medical college principal, Dr Misra's request for money had reached the administration only on 4 August and sanction orders were issued the next day. The implication was that the state administration acted promptly once it received the request but it was the hospital that had been sitting on the payments.
Dr Misra, however, told NDTV that the government was only referring to his last letter and he had flagged the lack of funds to the health department earlier too.
"I wrote at least three letters to the health government on 3 July, 19 July and 1 August - and had even flagged the issue in discussions over video conference (with officials in between)," Dr Misra said hours after his suspension was announced in a press conference.
"The delay (in payments) happened because the funds hadn't come in," he said. "The funding was approved by the government on 5 August... and we made the payments (by 11 August)... Then what is our fault," he said, detailing the bureaucratic process that the funds had to clear before the payment could be made to the supplier.
To the government's criticism that he was away in Rishikesh when the hospital started running low on oxygen on 10 August, Dr Misra said he was on sanctioned leave, pointing that hospital staffers had informed him about the shortage and he had, from Rishikesh made arrangements for supply of cylinders.