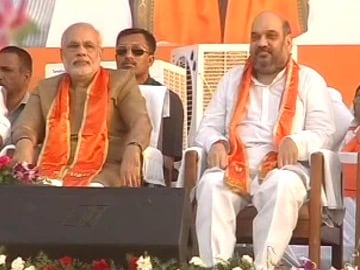 New Delhi:
Suspended IAS officer Pradeep Sharma has claimed that he was asked to provide special favours to the woman who was placed under surveillance allegedly under the orders of Gujarat Chief Minister
Narendra Modi
.
Earlier this week, the woman's father claimed that she was aware that she was being spied upon by senior Gujarat police officers. In his letter to the national and state women's commission, the father urged against an investigation and said "whatever help was rendered" was based on his request, but he never once mentioned why he asked for surveillance.
The BJP says that the surveillance was conducted because the woman was being stalked by Mr Sharma, who has been suspended on charges of corruption.
But Mr Sharma told NDTV's Truth vs Hype, "If I was stalking her, why was she visiting me at the behest of the Chief Minister?"
He claimed that the woman would communicate messages from Mr Modi, asking him to give her contracts in districts where he was posted.
He further said that he offered the woman a project to restore a heritage building, Mani Mandir, in Rajkot district which she turned down, saying she wanted to do something new. Next, he claims, she visited him in the town of Bhavnagar where he was posted as Municipal Commissioner because the Chief Minister had advised her to look for a project in the Alang Shipyard.
Two news portals - Gulail and cobrapost.com - recently claimed that audio tapes with the Central Bureau of Investigation or CBI reveal that in 2009, Gujarat's then Home Minister
Amit Shah
ordered the state's senior police officers to spy on Mr Sharma and a young woman at the behest of a "sahib" or "boss."
The Congress has alleged that Mr Modi was the "boss" referred to in those conversations, whose authenticity has not been corroborated by the CBI.
But the BJP has cited a letter from the girl's father in which he says he sought protection for his daughter from Narendra Modi , with whom he has had a 2-decade long association.
But Mr Sharma told NDTV that he introduced the woman to Mr Modi in January 2004, when the latter came to inaugurate a park in Bhuj. Mr Sharma, as the Collector of Kutch, had commissioned her to design the park. He said her family had no prior association with Mr Modi.
He said the woman and Mr Modi developed an independent association over mobile phones and emails, which she shared with him. He claims that at some point, Mr Modi feared that the woman had shared a sensitive video clip with him, and hence placed him under surveillance, as well as slapped false charges on him.
Mr Sharma also said that his life is in danger in Gujarat and that he be moved out of the state. "I will not get justice in that state," he said.
The senior bureaucrat filed an affidavit today in the Supreme Court asking for a CBI investigation into violations of phone tapping laws by Mr Modi and Mr Shah.
The BJP dismissed the allegations, calling the charges politically-motivated in an election year.
"What is Pradeep Sharma's status to comment on this? Matters of criminal offence cannot be dealt like this," the party's Pinky Anand told NDTV.
In 2010, Mr Sharma was suspended by the Gujarat government and then arrested on corruption charges. He was granted bail in 2011.