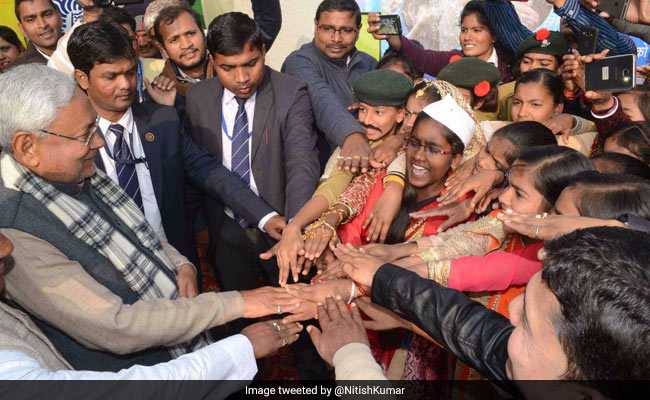 Patna:
Bihar Chief Minister Nitish Kumar, who is on a state-wide tour since December 12 to take a stock of state government's development schemes over the years, recently spotted a mound in a village that has yielded potsherds dating back to 1,000 BC.
The potsherds, which are pieces of broken ceramic pot or other earthenware that have archaeological significance, discovered by Mr Kumar in Pharpar village in Ariyari block of Sheikhpura district could date back to Neolithic period, according to archaeologists. The visit to the village was a part of Mr Kumar's "Vikas Samiksha Yatra."
After the mound caught the fancy of Bihar Chief Minister during his visit on December 29, Chief Secretary Anjani Kumar Singh, who was accompanying him at the time, called up the Executive Director of the K P Jayaswal Research Institute, Bijoy Kumar Chaudhary. Mr Kumar, who is known for his interest in archaeological significance, had suggested the site could have historical significance.
Following the call from the chief secretary, a team of archaeologists conducted preliminary explorations at the site on Sunday. "We visited the site yesterday and were thrilled to discover a number of potsherds which give a hint about the antiquity of the mound," Mr Chaudhary told PTI.
Pharpar village is about 120 kilometres from the state capital, Patna, and the archaeologists have also found some fragmented sculptures of Buddha, Lord Vishnu and some female deities at the site.
"Fragmented sculptures had been found in the village earlier also when our institute was carrying out state-wide explorations. But the mound was overlooked at that time," Mr Chaudhary was quoted as saying by the news agency. He said preliminary exploration have established the historical signifance of the site.
Under the watch of the Nitish Kumar government, a "Bihar museum" was recently set up in Patna, which was inaugurated a couple of months ago. Moreover, museums across the state are being given a facelift on his insistence.
Mr Kumar is eyeing the UNESCO World Heritage status for cyclopean wall at Rajgir, constructed without mortar, using enormous blocks of stone. Nalanda University got the tag in 2016.
Last week, Mr Kumar laid foundation stones for more than 100 projects worth Rs 700 crore in Nalanda district as part of "Vikas Samiksha Yatra".
While addressing a public gathering, he also said that agriculture in the state was likely to receive a major boost as part of his government's "third roadmap" for the period 2017-22 recently launched by President Ramnath Kovind. He has also been voicing concerns about social evils like child marriage and dowry during his public meetings.
However, Rashtriya Janata Dal chief Lalu Prasad had taken a potshot at Mr Kumar's Vikas Samiksha Yatra, calling it a "scam" when Mr Kumar's statewide tour started.
He claimed that for every district covered as a part of the tour, Rs 10 crore was spent from the public exchequer. However, the ruling Janata Dal (United) dismissed the charge as "sheer frustration" of the RJD supremo.
(With PTI inputs)