Highlights
Rohith Vemula's family: Smriti Irani's speech on his suicide was all lies
On Wednesday, Irani alleged nobody let a doctor come near Rohith's body
Why is Irani hiding Rohith's letter where he asked for poison: Family
New Delhi:
Rohith Vemula's family and friends has attacked Education Minister Smriti Irani, calling her speech in Parliament on the research scholar's suicide a set of "absolute lies".
"Smriti Irani, this is not a serial, this is real life. Bring out the facts, don't fabricate them," said Rohith's mother Radhika Vemula in Delhi, flanked by her other son and Rohith's friends.
On Wednesday, Smriti Irani had said in her reply to a debate in the Lok Sabha: "
This is how politics was played on this child and his dead body
. Nobody allowed a doctor near him. The police has reported... Not one attempt was made to revive this child. Not one attempt was made to take him to a doctor. Instead his body was used as a political tool. Hidden. No police was allowed till 6.30 the next morning. Not me, but the Telangana police is saying this."
Rohith's brother Raja said: "These were absolute lies. The intent was to divert focus from an issue that has started troubling the BJP."
Rohith, 26, hung himself at the Hyderabad Central University on January 17, days after he was banned from the hostel and other common areas on the campus for allegedly attacking an activist of the BJP-linked ABVP.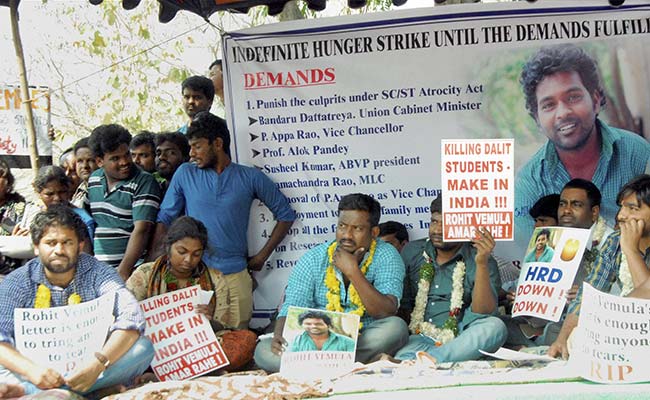 His supporters and opposition parties allege that he was a victim of caste discrimination and that Smriti Irani and another union minister Bandaru Dattatreya forced the university to punish Rohith.
The family cited the comments of Rajasree Malpath, the doctor who declared Rohith dead.
"I examined his pulse and blood pressure, despite knowing he is probably dead. There was no pulse or blood pressure. His body was cold, stiff and rigid. His tongue was protruding and rigor mortis had set in,"
the doctor told NDTV on Thursday
.
The family also accused the
minister of deliberately not talking
about a letter that Rohith had written to the university days before his suicide, in which he had alleged discrimination and asked for "poison".
"He served notice to the Vice Chancellor saying 'I'm going to commit suicide'. This letter was never brought out by Smriti Irani. Why is she hiding this letter?" questioned Rohith's brother.
Speaking to NDTV, Raja Vemula also rubbished reports that Rohith was not a Dalit. "I was born a Dalit, raised as a Dalit, I suffered discrimination as a Dalit and now there are doubts being raised on whether Rohith was Dalit. My grandmother also testified and died after all the pressure that was put on her. How many from my family should die before we get justice?"