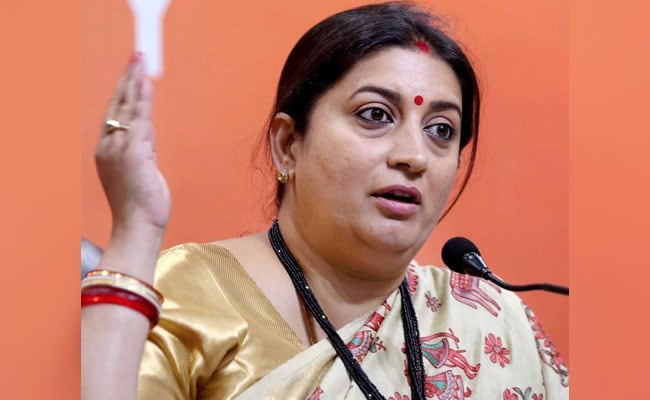 New Delhi:
Congress leader Ahmed Patel on Monday questioned the government's attempt to check fake news, asking whether it was aimed at preventing journalists from reporting news uncomfortable to the establishment.
He also asked who will determine if a reported news item is "fake" and expressed apprehension that rules might be misused to harass reporters.
Union minister Smriti Irani, however, responded to him saying the Press Council of India (PCI) and the News Broadcasters Association (NBA), both of which are not controlled by the government, will ascertain whether a news is fake or not.
"I appreciate the attempt to control fake news but few questions for my understanding: 1.What is guarantee that these rules will not be misused to harass honest reporters? 2. Who is going to decide what constitutes fake news ?
3. Is it not possible that motivated complaints will be filed to suspend accreditation until enquiry is on? 4.What is guarantee that these guidelines will check fake news or is it an attempt to prevent genuine reporters from reporting news uncomfortable to establishment?," Mr Patel said on Twitter.
Responding to him, Ms Irani tweeted back, saying, "Glad to see you awake Ahmed Patel ji. Whether a News article / broadcast is fake or not will be determined by PCI & NBA; both of whom I'm sure you know are not controlled/ operated by GOI."
Earlier on Monday, the
government said the accreditation of a journalist
could be permanently cancelled if the scribe is found generating or propagating fake news, as it came out with stringent measures to contain the menace.
As per the amended guidelines for the accreditation of journalists, if the publication or telecast of fake news is confirmed, the accreditation of that journalist would be suspended for a period of six months in the first violation and for one year in case of a second violation.
In case of a third violation, his or her accreditation would be cancelled permanently, the information and broadcasting ministry said in a release.
It said any complaint of instances of fake news would be referred to the Press Council of India (PCI), if it pertains to print media, and to the News Broadcasters Association (NBA), if it relates to the electronic media, for determination of the news item being fake or not. This determination is expected to be completed within 15 days by these agencies, the ministry said.