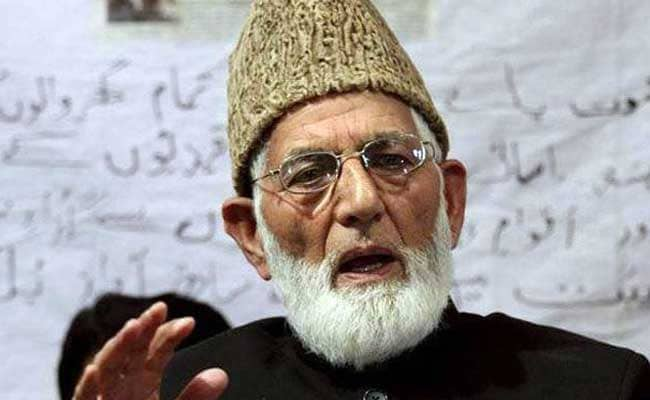 New Delhi:
As part of its probe into terror funding in Jammu and Kashmir, the National Investigation Agency's (NIA) today questioned Naeem and Naseem Geelani, sons of Hurriyat Conference chief Syed Ali Geelani at its headquarters in Delhi.
The anti-terror agency had summoned Naseem, a professor, and Nayeem, a surgeon, for questioning after it arrested half a dozen separatists including Geelani's son-in-law Altaf Ahmad Shah. They were accused of receiving funds from Pakistan to fuel protests in the Kashmir Valley.
In this case, the NIA had accused separatist and secessionist leaders of working in tandem with terrorist groups including Hafiz Saeed, leader of the Pakistan-based Jamaat-ud-Dawa and banned terrorist outfit Lashkar-e-Taiba.
Geelani's elder son Naeem, who lived in Pakistan for nearly a decade, had returned to Kashmir in 2010 and is seen as the successor to the Geelani-led Tehrek-e-Hurriyat, a separatist conglomerate comprising pro-Pakistan hardline groups.
NIA officials say Geelani's two sons play a key role in the affairs of the Hurriyat faction and are suspected to be closely involved in the process of raising funds from Pakistan received through hawala and their disbursal.
The NIA had also asked them to bring documents of the properties that they own since most of the properties owned by the family are in the name of the two brothers.
The Geelani brothers had earlier evaded responding to summons from the NIA. Naeem was admitted in a Srinagar hospital following chest pain. Naseem, on the other hand, wanted the agency to summon him through his employer, an agricultural university in the Valley, to enable him to avail travel and dearness allowance.
NIA investigators have questioned several Hurriyat leaders, their relatives and some identified stone throwers in Srinagar after the arrest of seven key Kashmiri separatists -- Nayeem Khan, Altaf Ahmad Shah, Aftab Hilali Shah alias Shahid-ul-Islam, Ayaz Akbar Khandey, Peer Saifullah, Raja Mehrajuddin Kalwal and Farooq Ahmad Dar alias Bitta Karate.