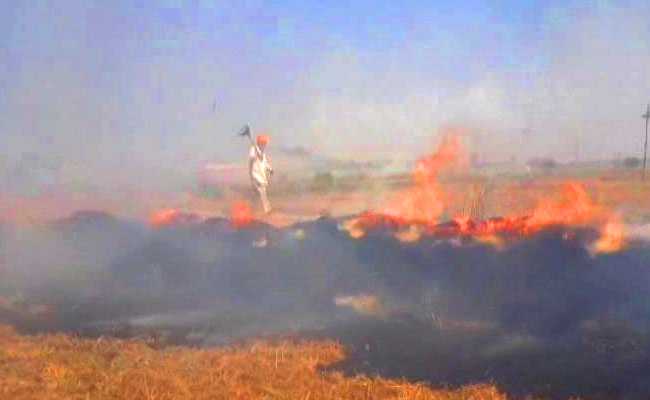 New Delhi:
The Centre today told the Supreme Court that the report of a sub-committee on prevention of stubble burning in three states including Punjab, Haryana and western Uttar Pradesh has been submitted and accepted by a high-level task force constituted by it.
On November 23, 2017, a high level task force for management of air pollution in Delhi and NCR, comprising experts and senior officials of various departments, was constituted by the Cabinet Secretariat.
The government told a bench of Justices M B Lokur and Deepak Gupta that it has been decided that the Ministry of Environment, Forests and Climate Change (MoEF), will be the nodal ministry for implementation of the report of the sub- committee on stubble burning.
Additional Solicitor General A N S Nadkarni said the report was submitted on December 18, 2017.
"The report of the sub-committee was discussed by the high level task force on January 6, 2018 and the report was accepted," Mr Nadkarni said.
The bench then asked apex court mandated Environment Pollution Control Authority (EPCA) to look into the report and give any suggestion or recommendation by January 29 and posted the matter for further hearing on that day.
The apex court had on December 13 last year asked the Centre whether they have looked into the aspect of economic loss due to health hazards caused by severe air pollution in the Delhi-national capital region (NCR).
The top court had raised the question while referring to an affidavit filed by MoEF, which had said that a high-level task force has been constituted to look into the issue of stubble burning and to explore various options for discouraging farmers from burning the crop residues.
It had observed that air pollution causes lots of health hazards and large number of people were admitted to hospitals, particularly children. Due to health problems, there was a huge economic loss and the Centre should look into it.
"Have you looked into the aspect of economic implication and economic loss to the state," the bench had asked Centre.
Last year, a petition was filed in the apex court raising the issue of severe air pollution in the Delhi-NCR including large scale stubble burning in neighbouring states like Haryana and Punjab.
The plea had claimed that stubble burning had led to an alarming rise in pollution levels in the NCR and its adjoining areas.