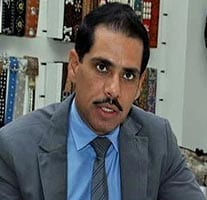 New Delhi:
In a statement to NDTV, businessman Robert Vadra today reacted to the allegations of illicit links with real estate giant DLF. The allegations were levelled by activists-turned-politicians Arvind Kejriwal and Prashant Bhushan in a press conference on Friday. Here is Mr Vadra's statement issued in response:

"I am a private law abiding citizen who has been engaged in business over the last 21 years.

The allegations levelled against me by Shri Kejriwal and Shri Bhushan are utterly false, entirely baseless and defamatory. My business transactions are fully reflected in financial statements filed before appropriate government authorities in compliance with the law.


They are available in the public domain to anyone interested in knowing the truth
I am saddened by the attempt of Shri Kejriwal and Shri Bhushan to deliberately misrepresent numbers contained in my financial statements, manufacture lies and malign my family in order to gain cheap publicity for them and for the launch of their political party."