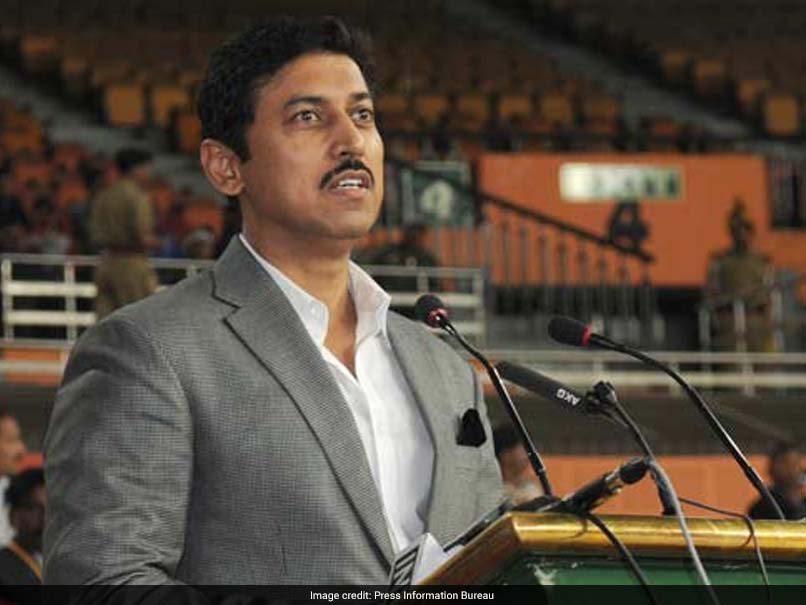 Gandhinagar:
Facing flak over the centre's proposal to set up a social media hub to "collect digital chatter", Union minister Rajyavardhan Singh Rathore said today that the government has "no plan to control social media."
Talking to reporters on the sidelines of an event in Gandhinagar, Mr Rathore said the centre believed that a person should "self-regulate" opinions on social media platforms and express his point of view with responsibility.
The union minister of state for information and broadcasting also took a swipe at the Congress for "creating an environment of fear" after its criticism of the project and said the party has "no better issue" against the government.
"Our government has no plan to control social media. Whoever is putting his opinions on social media should self-regulate and put his point of view with responsibility," Mr Rathore, who was in Gandhinagar to attend the Youth Parliament event at Karnavati University, said.
"If there is a possibility of riots anywhere, the local government should keep an eye on it and take steps it deems fit," he said.
Mr Rathore added that Facebook-owned messaging platform WhatsApp has rolled out changes after the Information Technology Ministry approached it following instances of fake news being shared on it, that led to incidents of lynching.
"When you forward a message, there is 'forwarded' written on it, so that you know it is not an original message but has been forwarded. Companies are making efforts to control it through machine learning so that they are not misused," he said.
Attacking the opposition, the minister said "the environment of fear created by the opposition shows that it has no strong issue against the government and is making up issues that the freedom of expression is in danger."
He alleged that the Jawaharlal Nehru government was the first to bring an amendment to the Constitution putting a restriction on the freedom of speech.
"To stop Syama Prasad Mookerjee (founder of Jana Sangh) from speaking on Akhand Bharat, a restriction on free speech was created," Mr Rathore claimed.
"Thereafter his daughter's son (Rajiv Gandhi) wanted to read letters posted by Indians and wanted to bring an amendment to the Indian Postal Act, which was not ratified by the (then) president," he said.
Mr Rathore stated that Prime Minister Narendra Modi has ensured that the Constitution was protected along with the people of the country.
Recently, the Broadcast Engineering Consultants India Limited, a mini ratna public sector undertaking under the information and broadcasting ministry, floated a tender for supplying software for the social media hub project.
"A technology platform is needed to collect digital media chatter from all core social media platforms as well as digital platforms such as news, blogs... In a single system providing real-time insights, metrics and other valuable data," the tender document stated.
Under the project, media persons would be employed on contractual basis in each district to be the "eyes and ears" of the government and provide real-time updates.
On a petition challenging the project, the Supreme Court on Friday took a strong note observing that it will be "like creating a surveillance state".
The top court had said the government wants to tap citizens' WhatsApp messages and sought its response on August 3.