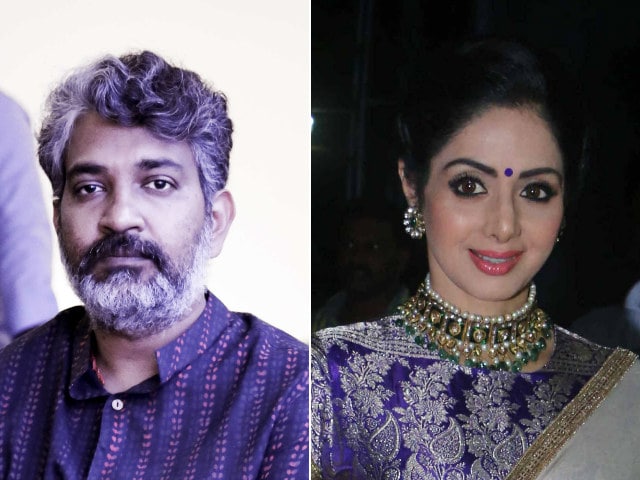 Highlights
'That's a mistake," said Rajamouli
'Shouldn't have discussed the details on a public platform,' he said
'I have huge respect for Sridevi ji,' he added
New Delhi:
It was last month when Sridevi said that
she was upset with what Baahubali director S S Rajamouli
said about her rejecting the blockbuster magnum opus. Now, the filmmaker has responded in an interview to
DNA
, saying he "regrets" having shared the internal details of Team
Baahubali
's encounter with the veteran actress. The makers of
Baahubali
had approached Sridevi for the role of Rajmata Shivagami,
which was ultimately played by South actress Ramya Krishnan
to much critical acclaim. Sridevi, 53, was no longer considered after she allegedly made certain starry demands - a claim which has been denied by the actress.
In his interview to
DNA
, Rajamouli appeared to not deny what was said before but said he could have avoided talking about Sridevi. "As for whose version to believe, I guess it is for people to decide. But one thing is for sure. I shouldn't have discussed the details on a public platform. That's a mistake. And I regret it," said the 43-year-old filmmaker.
Rajamouli also commented on the position Sridevi holds in the film industry. "I have huge respect for Sridevi ji as a flag-bearer of the southern film industries in Mumbai for many years. I wish her all the best. And I wish Mom a big success as the trailer looks very intriguing and promising," he told
DNA
. Sridevi's
MOM hit theatres on July 7
.
In May, Rajamouli was speaking on a regional TV chat show, when he said: "After hearing series of wishes from her (Sridevi), our team got fed up. We also thought that it would be above our budget to meet her demands. Then we approached Ramya Krishnan and she proved herself fantastic and we now feel, we were lucky that we dropped the idea of having Sridevi in our film," as quoted by Times Of India.
A month later, Sridevi told channel NTV Telugu that Rajamouli's claims were shocking: "I was shocked and hurt by his interview. Rajamouli is a calm and dignified person. I was very happy to work with him. But, the way he spoke about the issue made me feel very sad."
Previously, reports about Sridevi's alleged starry claims ranging from she demanded a salary of Rs 6 crore to asking for the use of an entire floor of a five-star hotel did the rounds on the Internet. In her interview to NTV Telugu, Sridevi added, "People would have sent me packing if I was like that. I don't know if the producer wrongly told Rajamouli that I made all these demands, but it is not in good taste to speak like this."
Meanwhile,
MOM is Sridevi's first Bollywood film
after Gauri Shinde's 2012 movie
English Vinglish
. Rajamouli released his
Baahubali 2
in theatres on April 28 and within weeks, the film redefined box office history becoming the first Indian film to ever make Rs 1500 crore.