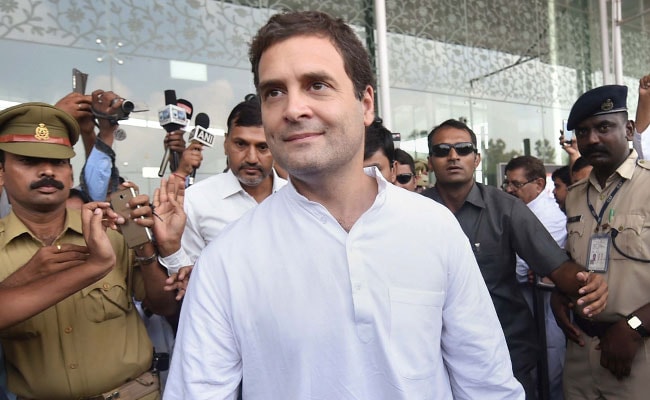 New Delhi:
Ahead of Prime Minister Narendra Modi's visit to his home state today, Congress Vice President Rahul Gandhi in his "weather report" said that rhetoric will rain down on Gujarat. Mr Gandhi's dig comes in the wake of speculation that the Prime Minister may announce a host of sops for poll-bound Gujarat.
"Weather report: Ahead of elections, Gujarat will today have rain of rhetoric," he said on Twitter, using the phrase "
jumlon ki baarish
" in his Hindi tweet.
He also tagged a report headlined, "As Gujarat waits for poll date, state gets projects worth nearly Rs 12,500 crore" with his tweet. The Congress has accused the BJP and the government of "putting pressure" on the Election Commission not to announce simultaneous polls in Gujarat and Himachal Pradesh.
While reacting to Rahul Gandhi's 'report', BJP leader Sudesh Verma that it is good that politicians tweet to express their opinion and connect with people, but "Rahul Gandhi has become a laughing stock because of his tweet since nobody takes him seriously".
"On one hand, Congress talks of elevating him so that he gets some aura of seriousness while on the other hand, he tweets such things that create laughter among people. This is, however, good because there is vacancy in Indian politics for entertainers but Rahul Gandhi is doing this," he said.
The Congress has alleged that if the Election Commission had announced assembly elections in Gujarat along with Himachal Pradesh, the model code of conduct would come into force with immediate effect, leaving no scope for the BJP to announce any sops for people in Gujarat.
Assembly elections in Himachal Pradesh will be held on November 9 and results announced on December 18. The Gujarat elections have not been announced yet, though Chief Election Commissioner Achal Kumar Jyoti has said they will be held before December 18.
(With inputs from PTI)