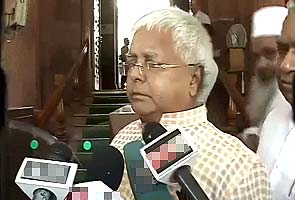 New Delhi:
Rahul Gandhi's condemnation of an ordinance hurriedly pushed by the government to protect convicted MPs and MLAs as "complete nonsense," seems to have stalled a move that could have helped Lalu Yadav, a loyal ally of the Manmohan Singh government.
"I personally think the ordinance is complete nonsense and it should be torn up," said the 43-year-old Congress vice president, in an explosive statement that embarrassed Prime Minister Manmohan Singh while he is away in the US and forced the government to retreat.
The ordinance seeks to skirt around a Supreme Court order disqualifying convicted lawmakers and allows them to stay on without voting rights or salary, until cleared by a higher court.
The BJP has repeatedly accused the government of timing the ordinance to benefit the Rashtriya Janata Dal chief, who faces a verdict on Monday by a Jharkhand court on the fodder scam case.
Lalu Yadav himself refused to comment today, but his party was clearly displeased with the Congress number 2's veto.
"If Rahul Gandhi was ignorant then it shows the divide between the government and the party," said Abdul Bari Siddiqui, the leader of the RJD's legislator party in Bihar. "It is wrong to say Lalu Yadav would have been the biggest beneficiary. In fact leaders from all parties would have benefited,"
The 17-year-old fodder scam involves the embezzling of around Rs 950 crore over several years from the Bihar government's coffers in the name of fodder, medicines and other supplies for non-existent cattle. Lalu Yadav is an accused in a specific case involving the siphoning of Rs 37 crore in 1994-95.
If convicted, the 66-year-old Bihar politician may face jail for three to seven years. Under the Supreme Court's order, he stands to lose his seat as an MP and also the right to contest the next elections, which could impact the prospects of his party as well as the Congress-led coalition.
Though the RJD's four MPs only support UPA-2 from outside, Lalu Yadav is a strong supporter of Congress President Sonia Gandhi and a key strategist in the coalition.