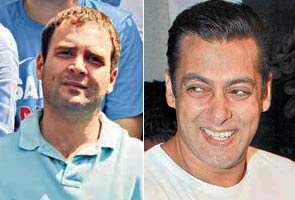 Mumbai:
Sources said the Congress leader dined at the actor's Bandra residence late Saturday night, after watching India become World champions
At around 2 am on Saturday night, as victory celebrations refused to die down on the city's streets, actor Salman Khan hosted an unusual group of guests.
In fact, he even walked a little on Bandra Bandstand to receive the visiting party of five members. Among them was Congress scion Rahul Gandhi.
Rahul and his friends went to Salman's house for dinner, as one of Gandhi's pals is a big fan of the Dabangg star
Sources revealed that after watching the final from the stands at Wankhede Stadium, the Congress General Secretary had decided to go calling on the actor's home, with four of his friends.
The 40-year-old Youth Congress leader was spotted outside Khan's Bandra apartment at around 2 am in the night.
Gandhi, who was also present for the Indo-Pak showdown at Mohali, dined at Khan's Galaxy Apartment in Bandra, the source revealed.
"They dined at his place and, around 6 am, left from his house," he said. Apparently, it was an impulse visit.
One of Gandhi's friends, a die-hard fan of the Dabangg actor, was desperate to meet the movie icon.
"So they (Gandhi and friends) decided to meet Khan. They left from the stadium in the night and went to Khan's Bandra apartment," he said.
A senior police official confirmed that Rahul Gandhi visited Khan's house late on Saturday night.