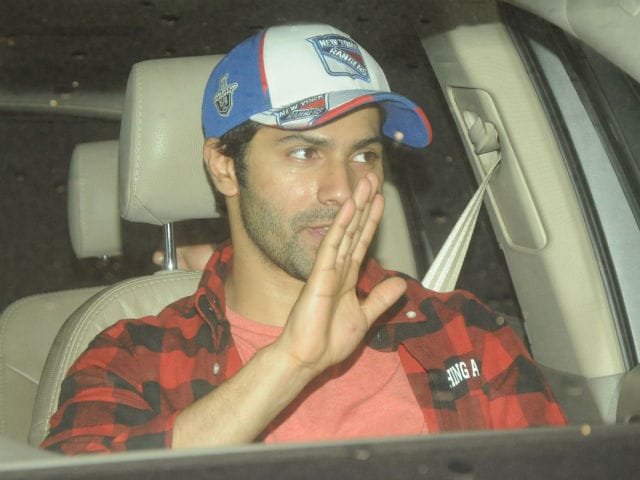 Highlights
"Baywatch is fun in the sand. I laughed throughout," wrote Varun Dhawan
Baywatch releases in India on June 2
Priyanka is currently in London to promote Baywatch
New Delhi:
Actress
Priyanka Chopra's maiden Hollywood film Baywatch
releases in India on June 2 (Friday). The actress is currently busy in promoting the film. Meanwhile, her colleague Varun Dhawan, who watched
Baywatch
earlier this week during a special screening in Mumbai, reviewed Priyanka's film. "#Baywatch is fun in the sand. @TheRock brings the humour like only he can and @priyankachopra is badass. I laughed throughout," wrote Varun on Twitter.
Baywatch
stars Priyanka as the antagonist Victoria Leeds. Dwayne 'The Rock' Johnson and Zac Efron co-star with Priyanka in the film.
Baywatch released in USA last week
. Here's what Varun Dhawan tweeted about Priyanka's
Baywatch
.
#baywatch is fun in the sand. @TheRock brings the humour like only he can and @priyankachopra is badass. I laughed throughout.

— Varun Dhawan (@Varun_dvn) May 31, 2017
Soon, Priyanka and Dwayne Johnson responded in kind.
Thank you @Varun_dvn I'm so glad u felt that way!Our fun mad action comedy releasing around the world #1dayforBaywatch@TheRockhttps://t.co/j58TfwsukD

— PRIYANKA (@priyankachopra) May 31, 2017
Thank you brotha! Me and @priyankachopra talked about how much you (and India) will enjoy the movie. Fun is the key word. #Baywatchhttps://t.co/MblDsKynjp

— Dwayne Johnson (@TheRock) May 31, 2017
Baywatch hasn't been reviewed well by foreign media
. At the US box office, the film has been outperformed by Johnny Depp's
Pirates Of The Caribbean: Dead Men Tell No Tales
.
Meanwhile, amidst promotional duties, Priyanka, 34, met Prime Minister Narendra Modi in Berlin, Germany on Tuesday. The actress was in Berlin for
Baywatch
Europe premiere.
Priyanka was trolled on social media for wearing a dress to meet PM Modi. Twitter found Priyanka's outfit 'unsuitable' for the meeting. However, she replied back to the trolls with a picture of herself and mother Madhu Chopra on Instagram, wearing short dresses.
She was also attacked on Twitter for t
aking selfies at the Holocaust memorial in Berlin
.
@priyankachopra I used to think of you as a sensible person till I saw your posted selfies at holocaust memorial

— Vakul Garg (@vakulgarg) May 30, 2017
Priyanka left for London on Wednesday night and will promote
Baywatch
there now.
Priyanka is already a star in Hollywood, she also features in American television series
Quantico
, which is in its third season.