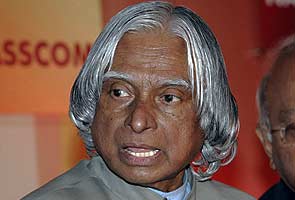 New Delhi:
Former president
APJ Abdul Kalam
has refused to run for President of India against Finance Minister
Pranab Mukherjee
. In a statement this afternoon, he said he has "never aspired to serve another term or shown interest in contesting the election." Acknowledging that political parties and citizens had urged him to contest the election, he said, "I want to thank them for the trust they have in me. I've considered the totality of the matter and the present political situation and decided not to contest the presidential election 2012."
(Read Dr Kalam's full statement)
Dr Kalam was being aggressively wooed today by the BJP, which sensed in him a chance to put up a credible fight, if not a successful one. Senior leader LK Advani spoke with him thrice today; his emissary, Sudheendra Kulkarni, met Dr Kalam twice. But aware that the math was not in his favour, Dr Kalam told the BJP he wasn't interested. His decision came after two important developments. First, Nitish Kumar, the Bihar Chief Minister, who is an important ally of the BJP, indicated publicly that he was not in favour of placing a candidate against the Finance Minister, who he praised as a capable leader. Then, Mulayam Singh Yadav, who holds six percent of the vote, said his Samajwadi Party remains committed to backing Mr Mukherjee.
That means that the BJP now has to decide whether to back former speaker PA Sangma, who is contesting the election as the candidate of chief ministers J Jayalalithaa and Navin Patnaik. Mamata Banerjee, who is a member of the ruling UPA but is not on speaking terms with other coalition members, has been lobbying aggressively for Dr Kalam on Facebook, is meeting her MPs and MLAs this evening to decide her strategy, now that her "No 1 choice" is not a valid option. Jayalalithaa has phoned her to suggest she support Mr Sangma. Unlikely, say sources close to Ms Banerjee, who has reportedly indicated that she would prefer to abstain during the election on July 22.
The BJP is itching to take on the ruling UPA, which on Friday confirmed the Finance Minister as its candidate. However, the BJP's ally, Nitish Kumar of the JD(U), reportedly does not want to field a candidate against Mr Mukherjee. BJP MP Maneka Gandhi also seems to be breaking rank with her party. She met Pranab Mukherjee this afternoon, and said after the meeting, "the President should be elected by consensus."
At a press conference in Patna earlier in the day, Mr Kumar said that the NDA will hold more discussions to decide its stand (a session in Delhi on Sunday evening ended inconclusively). Mr Kumar's comments also suggested that he is still leaning towards Mr Mukherjee - he praised him as a capable leader, and said that ideally, the President should be picked by consensus. Another BJP ally, the Shiv Sena, has refused to back Mr Sangma. (
Your choice for President? Vote here
) The BJP and its partners will meet for the third time tomorrow to decide their strategy.
If it can bring Mr Kumar on board, the BJP would like to back Mr Sangma for two reasons. Even though it will lose the election, the party believes that unless it puts up a fight, it will be seen as a largely impotent Opposition by voters ahead of the 2014 general elections. Secondly, it wants to use the presidential race to attract new partners like Jayalalithaa and Mr Patnaik.
Mr Mukherjee and the UPA don't have cause for immediate concern. With Mr Yadav on board, the UPA hits a little less than 50% of the vote. Support from the Left could take it past the 50% mark.