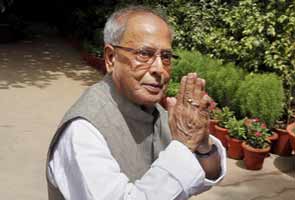 New Delhi:
Shocked and anguished at the rape of a five-year-old girl in Delhi, President Pranab Mukherjee today called for urgent introspection to identify causes behind repeated failure of society to ensure security of women and children.
He also sought urgent steps for bringing perpetrators to immediate justice.
"I am shocked and deeply anguished at the latest incident of sexual assault and rape of a five-year-old child in Delhi. I join her family in praying for a speedy recovery and call upon concerned authorities to ensure the best possible medical attention for her," Rashtrapati Bhavan spokesperson Venu Rajamony quoted the President as saying.
While seeking urgent steps to bring the perpetrators to immediate justice, the President said, "As a society, we must introspect at the erosion of values and our repeated failure to ensure the security of our women and children."
"We must identify the causes and find solutions for such criminal depravity in our midst," he said.
He asked people to pledge all "energy and effort into ensuring that such aberrations which stain our moral fibre and standing as a society is prevented."