SRINAGAR:
Pakistan-based terror group Lashkar-e-Taiba, or LeT, is involved in the
brutal killing of the young Border Security Force jawan Mohammad Ramzan Parray
shot dead in his north Kashmir house late on Wednesday evening, a top police officer said today. The heavily-armed terrorists had tried to kidnap the 31-year-old BSF jawan who had come home on a vacation but the unarmed soldier fought back.
Md Ramzan Parray was shot in the head at point-blank range. His family that had tried to snatch him from the terrorists were stabbed.
The information with the police indicates Lashkar-e-Taiba terrorists were involved, said SP Vaid, Jammu and Kashmir police chief.
"It is an act of cowardice... They want to silence the people who talk about terrorists, who share information," he said.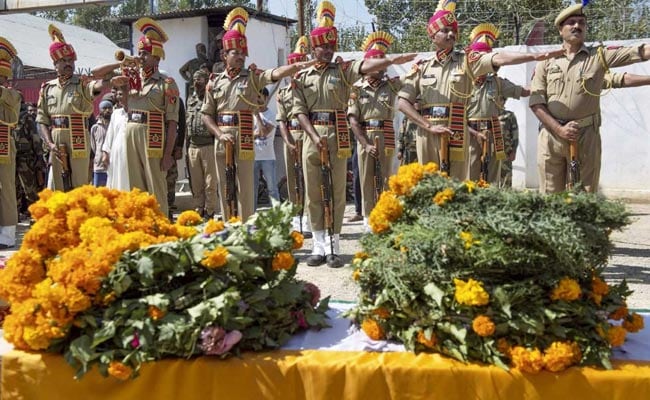 In May, terrorists - also from the Pakistan-based LeT - had abducted another Kashmiri soldier,
Lt Ummer Fayaz from a family wedding
and murdered him in south Kashmir's Shopian district in May this year.
At the recent United Nations General Assembly,
India had held the 22-year-old army officer's picture as the "harsh and tragic reality" of Kashmir due to Pakistan's non-stop support to terrorists.
Md Ramzan Parray was speaking to someone on his mobile phone in the courtyard when a group of Lashkar terrorists passing by, spotted him.
Initial investigations by the police indicate the terrorists suspected he was passing on information about the presence of the terrorists and barged into the house. There had been a search operation in the locality a day earlier.
That suspicion got corroborated, the terrorists apparently thought, when they snatched his mobile phone and saw his pictures with senior BSF officers.
They tried to kidnap him.
"He fought them despite being unarmed. He tried to snatch their rifle but since he was alone and there were many of terrorists," a senior BSF officer said.
Sheikh Zulfikar, the Bandipora district police chief, said he tried to fight back. "Because he fought back, they fired at him".
His father and the two brothers tried to rescue him from the terrorists were stabbed, the officer said. Md Ramzan was on a month's leave to renovate his family house and set up a shop for his brothers so that they could make a living.
Police officers said they would make sure that the terrorists involved in the killing pay for it.
"We will see that they are tracked down and taken to task," vowed SP Vaid, the state's police chief.
Just this month, the LeT terrorist, Ishfaq Ahmad Padder who was involved in Lt Fayaz's killing was shot dead by security forces in south Kashmir's Kulgam district.