Highlights
Indian diplomat Paulomi Tripathi responded to Maleeha Lodhi at UN
India showed photo of army officer Ummer Fayaz killed by terrorists
Pak had shown photo of Gaza girl and claimed it was that of a Kashmiri
India had a photograph to show the United Nations General Assembly on Monday -- that of Ummer Fayaz, the young army officer who had been dragged out of a wedding party and gunned down by terrorists in Kashmir in May this year. Paulomi Tripathi, the diplomat who was representing India, said it was the reality which Pakistan was trying to "obfuscate" by pushing "fake" photographs of Gaza as images from Kashmir.
The photo in question was one brandished on Saturday by Maleeha Lodhi, Pakistan's permanent representative to UN. Ms Lodhi claimed the girl, whose face bore multiple bruises, was a victim of pellet guns in Kashmir and cited it as proof of what she called "Indian brutality".
But the photo turned out to be of Rawya Abu Joma, a resident of Palestine, which was clicked by award winning photographer Heidi Levine in 2014. The girl, who was 17 years old at the time, had been injured in an Israeli airstrike.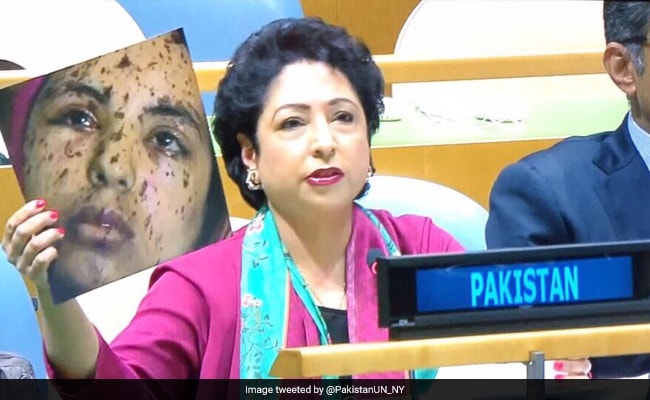 "The Permanent Representative of Pakistan misled this assembly by displaying this picture to spread falsehoods about India. A fake picture to push a completely false narrative," said Ms Tripathi.
In view of the "cynical and misleading attempt" by Pakistan, India, she said, was constrained to show the "real picture of pain inflicted by the nefarious designs of Pakistan".
Ummer Fayaz, a Kashmiri, had gone to his cousin's wedding in south Kashmir's Kulgam. But amid the festivities, he was dragged out on by three terrorists, tortured and killed. His bullet-ridden body was found the next day. The murder, meant to deter young Kashmiris from integrating with the mainsteam, had evoked outrage across the nation.
After India's response on Monday, the Foreign Ministry tweeted:A tale of 2 narratives
@UN

Pakistan uses fake pictures to push false narrative
India uses true pictures of Pakistani terror's true face. pic.twitter.com/2iKbmkMNtt

Syed Akbaruddin (@AkbaruddinIndia) September 25, 2017
Earlier on Saturday, External Affairs Minister Sushma Swaraj had ripped apart Pakistan during her address at the UN General Assembly, emphasising how the neighbouring country had become the breeding ground of terror.
India, she said, had marched ahead since Independence, building institutions that are the "pride of the world". Pakistan, in contrast, has only "produced terrorists and terrorist camps... Lashkar-e-Taiba, Jaish-e-Mohammad, Hijbul Mujahideen, Haqqani Network," she had said.