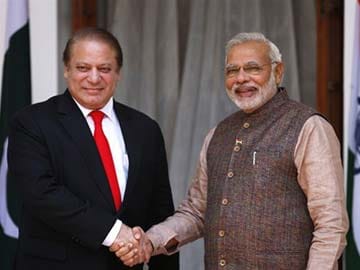 New York:
Pakistan "spoilt the game" by engaging with Kashmiri separatists before talks between the two countries last month, Foreign Minister Sushma Swaraj told reporters in New York on Thursday.
"The new government has given a new signal. So they spoilt the talks, they spoilt the game," Ms Swaraj said after meeting with foreign ministers of Brazil and South Africa on the sidelines of the UN General Assembly session.
Speaking earlier, Pakistan's National Security and Foreign Affairs Adviser Sartaj Aziz said that the ball was in New Delhi's court for talks to take place and Islamabad would not make the first move.
"They had suspended talks so talks will happen if they take the initiative. There were no violations...it has been normal practice for the past 20 years. It was an overreaction," Mr Aziz said, defending the Pakistani envoy's meetings with Hurriyat leaders, which led to India calling off talks in August.
Responding to that statement, Ms Swaraj said, "There is no question of first or second. As far as our reaction is, we have said repeatedly that if a reaction had to come, it had to come at this time only. The initiative was there from our side."
It was Prime Minister Narendra Modi, she added, who had invited Pakistani premier Nawaz Sharif to his swearing-in ceremony. "PM Sharif had suggested that foreign secretaries should meet for bilateral talks and we agreed to that. But just as the talks are about to happen, four days prior to that the envoy is talking with Hurriyat leaders, then who spoilt the game?" she asked.
PM Modi and Nawaz Sharif will not hold bilateral talks in the US, but top sources say an "informal handshake" is not ruled out. A handshake, an informal photo-op and exchange of pleasantries, were the two leaders to meet each other at the UN, is still a possibility, say sources, but India will first closely monitor Mr Sharif's UN speech on Friday.(
Read: No PM Modi-Nawaz Sharif Talks But 'Informal handshake' Possible: Sources
)