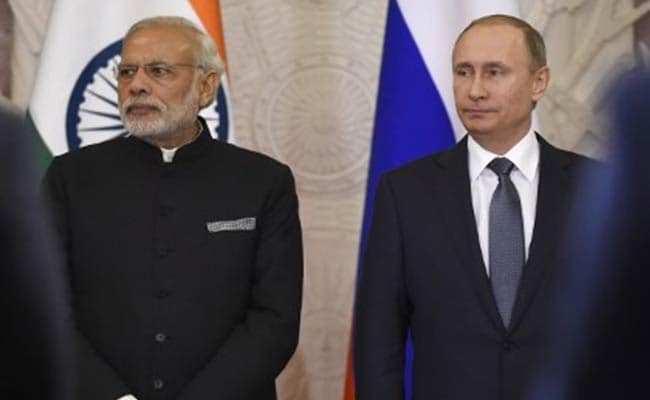 Highlights
Russia held its first joint military exercise with Pak last month
India has communicated its unhappiness to Russia over the exercise
Russia says it holds similar drills with other countries in the region
New Delhi:
Conveying its strong opposition to Russia's joint military exercise with Pakistan, India told Moscow that a nation which "sponsors and practices terrorism as state policy" will create further problems.
"We have conveyed our views to the Russian side that military cooperation with Pakistan, which is a State that sponsors and practises terrorism as a matter of State policy is a wrong approach and it will only create further problems," Indian Ambassador to Moscow Pankaj Saran said in an interview to Russian news agency Ria Novosti.
Mr Saran's remarks come ahead of the bilateral meeting between Prime Minister Narendra Modi and Russian President Vladimir Putin, who will be arriving in India on October 14 for the BRICS summit in Goa on Saturday.
India has been communicating its unhappiness to Russia over its joint military exercises with Pakistan held for the first time last month. However, these concerns have been played down by the Russians who maintain that they hold similar military drills with other countries of the region as well.
"There are some burning issues before the world today which the BRICS countries will certainly address and this includes the question of terrorism and the threat of terrorism faced by all the countries in the BRICS group," Mr Saran said.
On Indo-Russia ties, the envoy said as far as India's relations with Russia are concerned, the two countries share a special and privileged strategic partnership.
"We see no change in this. On the contrary, this has only strengthened in all areas, including in the field of military-technical cooperation," he added
Mr Saran said India-Russia partnership is an anchor of peace and stability in the region and the world.
"We have a regular system of military exercises with Russia. We have been holding these exercises for the last few years with Russia and we will continue to do so," he said.
He also highlighted India's cooperation with Russia in the fields of civil nuclear sector, trade and investments.