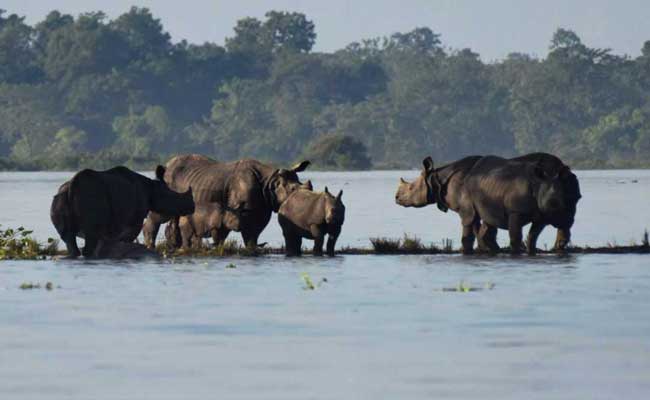 Kaziranga:
The second wave of floods in Assam has inundated 80 per cent of the 481 sq km area of the Kaziranga National Park and claimed the lives of over 140 animals, including seven rhinos.
Since August 10, seven rhinos, 122 swamp deer, two elephants, three wild boars, two hog deer, three sambhar deer, one buffalo and one porcupine died, Kaziranga National Park Divisional Forest Officer (DFO) Rohini Ballav Saikia said on Wednesday.
"Carcasses are being recovered daily," the official said.
Out of the seven dead rhinos, six drowned while the other died of natural causes.
Water of the Brahmaputra river entered the Kaziranga National Park, a UNESCO World Heritage Site, through river Difloo on August 10, the Divisional Forest Officer said.
Intensified water patrolling was on by Kaziranga National Park guards, task force, protection force along with those from NGOs, Wildlife Trust of India and forest department employees for rescuing, recovering and making assessment of species trapped or dead in Kaziranga National Park, Ms Sakia said.
At present, animals in Kaziranga National Park are moving in search of food available on both sides of the National Highway-37 and the adjacent tea gardens towards the higher altitudes of Karbi Anglong district, the official said.
Forest department and security personnel are fixing hoardings, posters, banners to restrict speed limit of vehicles on the NH-37 passing through the park between 20 to 40 km per hour, the Divisional Forest Officer said.