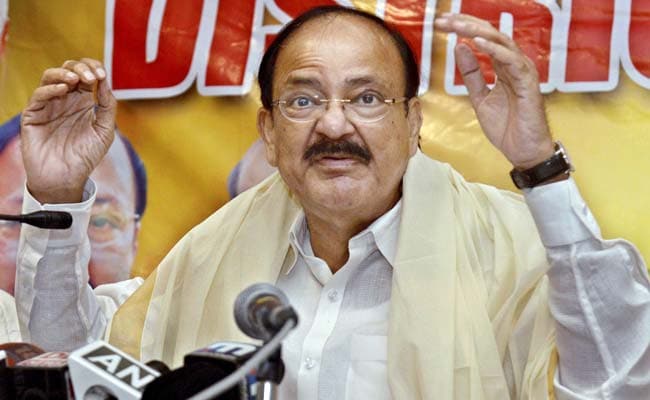 New Delhi:
Only the corrupt, communal and casteist people are upset with Prime Minister Narendra Modi, Union minister M Venkaiah Naidu today said as he attacked the "opportunistic" coming together of opposition parties. Mr Naidu told reporters in New Delhi that the "unprincipled" alliance of opposition parties will not last longer for want of an ideology and an "able and stable" leadership, which he said is only with the NDA.
"There are three categories of people who are upset with Modi: the corrupt, communal and casteist. They are unhappy because Modi has weeded them out," Mr Naidu said.
"Opposition parties are trying to come together. This is an opportunistic, unprincipled alliance which will not last long," the union minister said when asked about yesterday's lunch meeting hosted by Congress president Sonia Gandhi.
He also hit out at Rahul Gandhi over his visit to Saharanpur and termed it as "just another photo opportunity" for the Congress vice president.
Mr Naidu also suggested that "not much" should be read out of "shrewd politician" Bihar Chief Minister Nitish Kumar's meeting with the prime minister today.
The JD(U) chief had yesterday skipped the luncheon meeting hosted by Congress president Sonia Gandhi. The party was represented at the lunch by Sharad Yadav and KC Tyagi.
Asked if Nitish Kumar and PM Modi's meet hinted at a reunion of the JD(U) and the BJP, the Union minister said, "These are speculations".
The JD(U) had in 2013 broken its 17-year alliance with the BJP after PM Modi was declared the prime ministerial candidate.
"Nothing will be kept secret. Nitish Kumar is a shrewd politician. A chief minister coming to meet the prime minister is a natural thing. The PM wants to work with the states. I do not think there is anything political in it," he said.