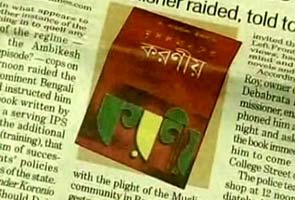 Kolkata:
Often accused of being intolerant, the Mamata Banerjee-led government in West Bengal is in the thick of a controversy yet again, this time for targeting a book written by an IPS officer that carries a veiled criticism of the current dispensation.
The Kolkata Police has allegedly ordered the stop of sale of the book titled 'Musalmander ki Koronio' (What Muslims Should Do), authored by Nazrul Islam, that reportedly criticises the state government for failing to improve the condition of Muslims in the state. On Friday, police raided the office premises, sales counter and godown of Mitra and Ghosh, the publishers of the book. The cops also allegedly closed the counter where the book was being sold.
"Thursday they called and told me not to sell the book. When they called me on Thursday, they said they would collect the books on Friday and not to sell the books," said Sabitendra Nath Roy, the book's publisher.
But the author himself has refused to be drawn into the controversy, having maintaining a stoic silence so far.
While most say that there is barely anything in the 102-page Bengali book that could ruffle feathers, parts of it have certainly raised eyebrows. A case in point being the book questioning the Trinamool government's policy to pay stipends to Imams and its stress on
madrasa
education instead of modern education for Muslims. The book also criticises politicians for using terms like
khuda hafiz
(goodbye) and
inshallah
(God Willing) incorrectly.
Hence, the police action against the publishers of the book has sparked an outrage, with several questioning the government's censorship policies. "Now you are in power, if I just criticise you or I want to say something to you for revision of your statement or policies, it that a crime? I can't understand that," noted writer Sunil Gangopadhyay said.
The book, though, has its share of detractors. Several local dailies have slammed both Mr Islam and his supporters, alleging that the book could provoke riots.
The latest incident has re-ignited the debate on the Trinamool government's alleged highhandedness, with several having slammed Chief Minister Mamata Banerjee for her autocratic style of functioning. The arrest of Ambikesh Mahapatra, a professor in Kolkata's Jadavpur University, in April for circulating a cartoon lampooning the chief minister had generated a lot of criticism for her government. Last month, a man named Shiladitya was arrested after he asked the Chief Minister a question at a public rally at Belpahari in the state. Ms Banejee had reacted angrily to the question; pointing to him, she claimed he was a Maoist and ordered the police to arrest him.