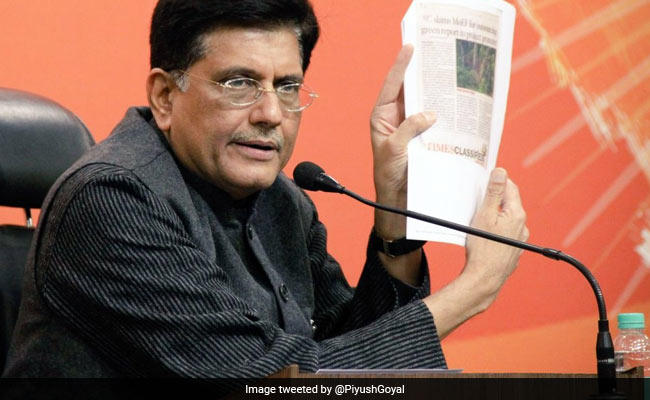 New Delhi:
The BJP on Wednesday used emails purportedly exchanged between the then Union minister Jayanthi Natarajan and Rahul Gandhi, then Congress general secretary, to allege that "non-state players" ran the government and held a right to "overrule" the then prime minister Manmohan Singh.
At a press conference, Union minister Piyush Goyal released the emails and accused the Congress of obstructing development in Gujarat, on eve of the last phase of the state elections.
The emails show Ms Natarajan, the then environment minister, informing Rahul Gandhi, now Congress' president-elect, about a slew of projects and seeking his and Congress chief Sonia Gandhi's guidance, he claimed.
Mr Goyal alleged that "Jayanthi tax", a phrase coined by the BJP to refer to alleged corruption in her ministry, was actually "Rahul tax".
Reading from the emails, Mr Goyal alleged that Ms Natarajan was seeking instructions from the Gandhis and Rahul Gandhi had asked her to take certain position on different projects.
He alleged that in one email, she wrote to him about Dr Singh's direction to her to ensure that the ministry takes a stand in favour of field trials of GM crops and notes that she was opposed to it.
"These emails highlight a very worrisome nexus. How the work of the government was run by non-state players," Mr Goyal claimed.
In one email, Rahul Gandhi asked her to follow guidelines given to her by the party president about a project. The prime minister had no role, Mr Goyal claimed.
He cited Rahul Gandhi's mail, allegedly asking to ensure no dilution of environmental rules for clearance of a project in Gujarat and claimed it showed how the Congress obstructed developmental work in the state when Narendra Modi was its chief minister.
The emails also carried messages exchanged between her and Rahul Gandhi's then private secretary.
Mr Goyal claimed that not only the leader even his personal secretary was so powerful that the minister was seeking his convenience to meet him.
"The right to overrule the prime minister's decision lay elsewhere. I'm sure even Manmohan Singh would want to know what was the decision-making process then," he said.
Ms Natarajan quit the Congress in 2015 after the BJP swept to power a year ago and had flayed Rahul Gandhi over a host issues.