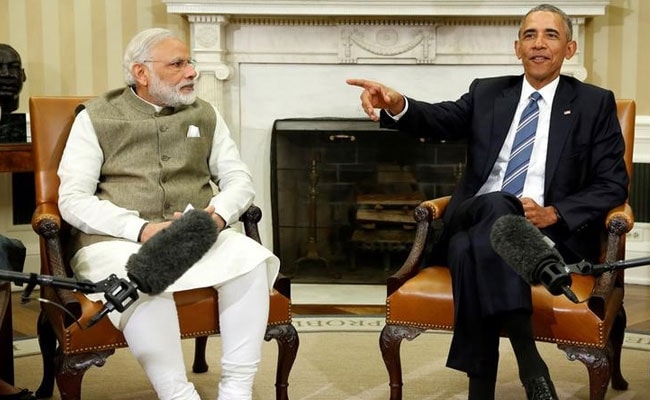 Washington:
US President Barack Obama and Prime Minister Narendra Modi could not address a joint press conference after their meeting because of scheduling issues and the two leaders wanted more time to discuss several pressing matters, a presidential spokesman said today. "I think the issue was just a matter of scheduling," White House Press Secretary Josh Earnest said.
"Between the private engagements that the President and the Prime Minister had both in the Oval Office and over lunch, that there was time for the two leaders to speak to professional independent journalists that cover the White House and that cover the Indian Prime Minister, but there was no time on the schedule for the two leaders to take questions," Mr Earnest said.
During his daily news conference, White House correspondents asked multiple questions on why the leaders of the two largest democracies did not address a joint news conference.
President Obama and PM Modi did made a joint media appearance where they made brief remarks to the press, buy did not take any questions.
"The fact there was no press conference between Prime Minister Modi and the (US) President, it just seems a little odd that two of the world's largest democracies -- the leader of two of the world's democracies wouldn't be able to find time to come out and answer questions about their meeting," one of the White House reporters said.
"Was it a problem of -- did you actually ask the Indian delegation if they would -- they would be willing to hold a press conference and it wasn't possible because of them or what was the issue?" the reporter asked.
"As the President indicated this morning, the leaders of the world's two largest democracies are meeting today. And yet the decision was made not to take questions from reporters.
"Can you go into why this administration at this point, eight years after the reaching of a civil nuclear accord with India, that US companies have yet to finalize a contract to build a reactor?" another White House Correspondent asked.
Mr Earnest said that the schedule that was laid out for the President and the Prime Minister was to give them the opportunity to meet privately in the Oval Office, and then to spend some time talking with the press about their meeting.
"And after doing so, they have begun a private lunch that's taking place in the cabinet room even as we speak," Mr Earnest said.
"So there wasn't an opportunity to take questions today."
"Typically, when the president does meet with world leaders, they will often have a formal news conference. In fact, I believe they had done that the last time that Prime Minister Modi was here, but we didn't do that today," Mr Earnest said.