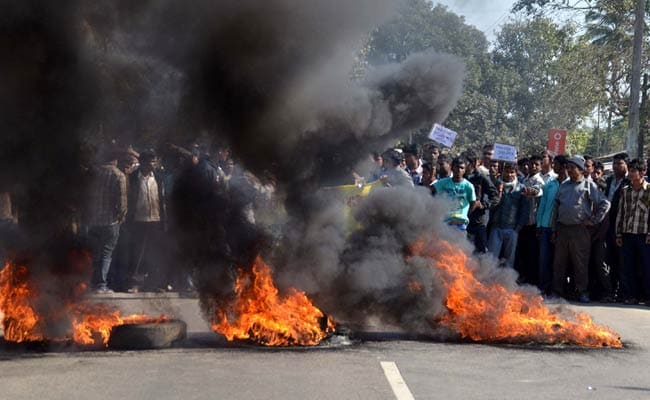 Guwahati:
In a crackdown on NDFB(S) militants, nine insurgents, including the chief recruiting officer, believed to be the brain behind the December 23 killing of Adivasis in Assam, and Belsiri 'platoon commander', were arrested and a sizeable quantity of arms and ammunition seized from them.
Eight militants were arrested by a joint team of the Army's Red Horn Division and the Assam police today in the Amteka forest in Chirang district along the Indo-Bhutan border where an operation was launched last night, IGP LR Bishnoi said.
Among the eight arrested are self-styled 2nd Lieutenant Enon Bargoyary alias Erkhang, Chief Recruiting Officer of NDFB(S), and self-styled platoon commander of Amteka area, Rinen Basumatary alias Majhi.
Another key functionary of the militant outfit Belsiri 'platoon commander' Bodosha Narzary alias Bishnu Narzary was arrested by a joint team of the Army and the state police in Sonitpur district last night.
A linkman of the NDFB(S) Subungma Basumatary alias Suresh was too picked up by the team from the Dhekiajuli area in Sonitpur district, police sources said today.
On a lead provided by Bishnu Narzary, an M-22 Rifle, three hand grenades, three electric detonators and a cash balance book were recovered, the sources said.
The recoveries include two AK-56 rifles, two pistols, a hand grenade and 219 rounds of ammunition, he added.
Enon is believed to be the brain behind the violence in Kokrajhar, Sonitpur and Chirang districts where a total 81 people lost their lives, majority of them Adivasis.
Enon, close to his outfit's 'chairman' IK Songbijit, 'army chief' G Bedai and 'deputy army chief' Batha, was involved in recruiting and motivating NDFB-S militants, including women cadres, and sending them to various camps outside the country.
Rinen Basumatary alias Majhi was of the parent NDFB's 20th batch trained in its Bhutan camp and had surrendered after Operation All Clear in 2003, the sources said.
Rinen then joined the NDFB-S two years back, the sources added.
For the entire last week the Army and the police have been carrying out sustained operations in difficult and inaccessible forest areas of Kokrajhar and Chirang Districts against the outfit, they said.