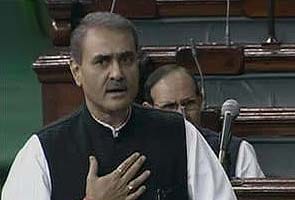 New Delhi:
The Nationalist Congress Party (NCP) has asked Maharashtra Chief Minister Prithviraj Chavan not to take any decision regarding implementation of multi-brand FDI in retail in the state without consulting it.
The party has said the issue of implementation needs to be discussed in the co-ordination committee first. "We have issues which need to be discussed and clarified. There are Mathadi labour unions, Market committees and we have to ensure that their interests are not harmed while implementing FDI in retail," NCP State President Madhukar Pichad said.
The NCP, a key ally in the UPA government, stoutly defended the government on its decision to allow investment in multi-brand retail during the Lok Sabha debate and voted in favour of the reform policy. But senior NCP leader Praful Patel, who asserted in the Lok Sabha yesterday that "FDI in retail will not hurt local markets," stepped out immediately after the vote and said that his party is looking to invoke the clause in the government's policy that allows states to choose whether or not to implement FDI in multibrand retail.
Mr Patel said a decision will be taken after consultations with coalition partner Congress. He said the party had written a letter to Maharashtra chief minister Prithviraj Chavan saying a decision should not be taken until the NCP made up its mind.
Mr Chavan, meanwhile, said he welcomes the government's decision to allow investment in multi-brand retail. "Whatever law will be made, we will welcome it. The NCP has changed its stand on the FDI issue, it should discuss it with others," he said.
Mr Patel, while arguing for FDI in the Lok Sabha yesterday, did turn to his Cabinet colleague and Congressman Kapil Sibal and said, "We have a coalition government in Maharashtra. Kapilji you said we are with you in Maharashtra, but on my party's behalf I want to say, we have a coordination committee and we will sit and discuss, assess its pros and cons and then decide on it."
All the UPA allies have closed ranks, assuring the government of their support in Parliament. This includes the DMK, which has made it clear that its support comes reluctantly. The DMK is vocally anti-FDI-in-retail.
The government won yesterday's vote on its controversial decision to allow 51 per cent Foreign Direct Investment or FDI in multi-brand retail after a heated two-day discussion in the Lok Sabha. It won with help from its external allies the BSP and the Samajwadi Party, both of which walked out before the vote was held. 471 MPs were present in the lower house last evening and cast their votes; 253 voted for the government, 218 voted against.
The NCP has nine Lok Sabha MPs and seven Rajya Sabha members. The Upper House will begin debating FDI in retail today and will vote tomorrow. The government's numbers in the Rajya Sabha are shaky and every vote will count in what promises to be a cliffhanger.
(With PTI inputs)