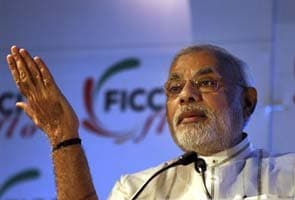 New Delhi:
When Narendra Modi began to speak at a power gathering of women in Delhi today, many expected him to take on the Congress' Rahul Gandhi, who had addressed India Inc. only days ago.
Apart from building his speech around the theme of "Mother India" - he had on Saturday admonished Mr Gandhi, without naming him, for his concept of India-as-a-beehive - and taking a swipe at the Congress leader later in his speech, Mr Modi, however, charted his own agenda.
The two speeches, though, will be compared for style and content if only because the 2014 Lok Sabha elections are widely expected to be a personality clash between them.
Both Rahul Gandhi and Narendra Modi had slow starts and delivered the day's headlines in the Q&A sessions after the speeches. Both stood, mike in hand, to answer questions, though the 42-year-old Mr Gandhi, in white
kurta pyjama
, strolled on stage talking to his audience, while Mr Modi, in a cream
bandhgala
, would politely stand every time he answered a question and then sit again.
They both told stories, both relaxed though Mr Modi more so than Mr Gandhi, as he used one-liners and jokes to evoke laughter and applause.
Mr Gandhi's speech and interaction were intense and earnest as he pitched his "brave new India" to India Inc, choosing to talk aspirations not policy, problem not solution. Mr Modi as usual pitched Brand Gujarat, sticking to the theme he had been asked to talk on - women's empowerment and entrepreneurship.
But today, Mr Modi also added a new dimension. Accused for long of having a top-down approach which favours big industry, the Gujarat chief minister today championed the small entrepreneur, the panchayats or village bodies and concluded by exhorting his audience to give the small worker and poor farmer their due credit in the economic process.
This took him directly to Rahul Gandhi turf. The Congress leader has fashioned his political career as a champion of the grassroots worker and farmer. His appearance at the event hosted by the Confederation of Indian Industry (CII) to address industry honchos last week was his first in nine years of political life. Mr Modi is seen as the darling of corporate India.